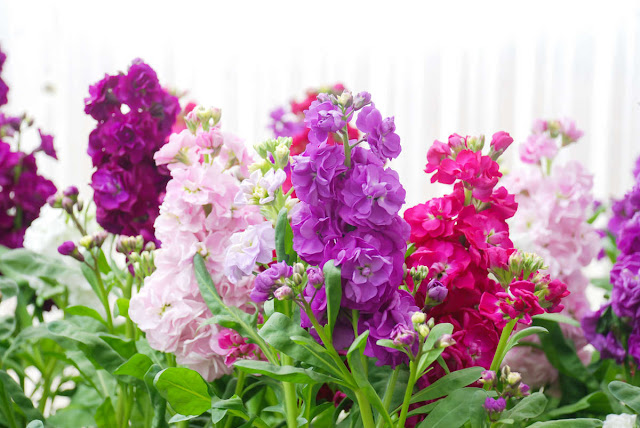 Cutting-flower gardens are trendy! Learn about growing flowers from seed, such as stock, above, during the Thursday events of Green Acres' Dig Into Spring online celebration. (Photo courtesy Green Acres Nursery & Supply)
Get ready to be inspired! Enjoy six days of garden activities designed to make gardeners spring into action.
It's "Dig into Spring," the annual Ideas Fair presented by Green Acres Nursery & Supply. But instead of in-person workshops and meet-and-greet sessions, the 2021 Ideas Fair has gone virtual, with events hosted online via Facebook or Instagram. All sessions are free.
Set for Monday through Saturday, March 8-13, the Ideas Fair offers something new and refreshing each day. Some lunchtime events will stream live on Facebook or Instagram. Others can be tapped into any time after their online debut. Gift card giveaways and others will be part of the fun.
Monday spotlights one of the newest members to the Green Acres family: Eisley Nursery in Auburn. Tag along on a video tour of the Eisley Nursery, now in the transition process. Eisley's is renowned for its vegetable seedlings, so what better place to talk about edible gardening?
During a lunchtime live event, author and blogger Toni Okamoto (of
plantbasedonabudget.com
) will share how she makes the most of homegrown veggie power in delicious meal ideas. Using Green Acres' social media pages, tune in at noon via Facebook Live or at 12:30 p.m. via Instagram Live.
Each day's activities and presentations will be posted on Green Acres' Facebook and Instagram pages.
Tuesday's topic: "Healthy Gardens Start with Healthy Roots." Learn why roots make a huge difference in plant health and productivity.

Wednesday, March 10, features another live lunchtime event with inspirational gardening teacher Kevin Jordan. He'll answer basic gardening questions, particularly about growing summer vegetables, as well as spotlight the many benefits of gardening and being part of Sacramento's gardening community. (It's good for you!) Tune in at noon on Facebook Live and at 12:30 p.m. on Instagram Live.

Thursday, March 11, the focus will be hot garden trends for 2021 (cut flowers!) plus a spotlight on houseplants.
Friday, March 12, outdoor designer Becky Horan will show how to make your own oasis with four tips to create a beautiful outdoor space. Saturday, March 13, learn how to plant in a Mediterranean climate – just like ours.
Via Facebook and Instagram, Green Acres will share more Ideas Fair ideas and tips each day. For the full line-up and links, go to:
https://idiggreenacres.com/pages/dig-into-spring-ideas-fair-2021
For more details:
https://idiggreenacres.com/
.