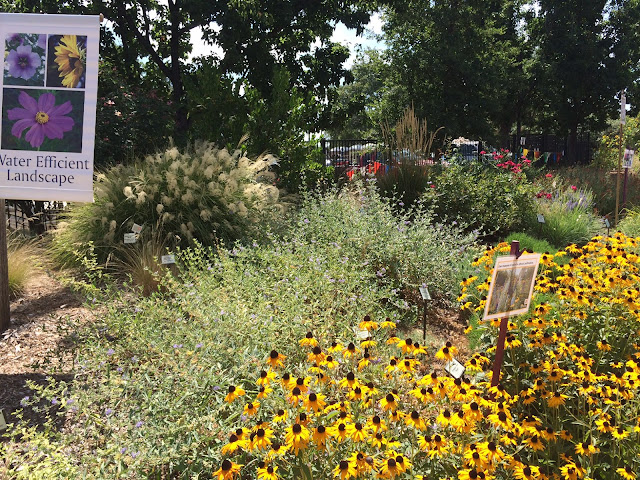 A garden on a water budget can be full of color and textures: This is the Water
Efficient Landscape at the Fair Oaks Horticulture Center. (Photo: Kathy Morrison)


Is your landscape ready to go on a budget?
Much of your garden's ongoing expense: Water. And that's also the type of budget your landscape needs.
"You and your family likely have a household budget, and so does your landscape – a Water Budget," says the Regional Water Authority, the umbrella organization for Sacramento-area water providers.
But first, you need to know your landscape's water use and plant needs. Learn how during an upcoming online webinar, "How Much Water Does Your Landscape Really Need?" Registration is now open for this free workshop, set for noon March 25.
"Explore ways to reduce the amount of water used in your landscape based on the types of plants and watering methods you select," say the workshop organizers.
Although we're getting rain this week, Sacramento's long-range forecast looks pretty dry. That will make this informative session extra useful to anyone looking for ways to be smarter about water use. During Sacramento's warmer months, most residential water use is outdoors.
Presented by the RWA and hosted by the City of Roseville, this one-hour lunchtime workshop will be led by local water-efficient landscape experts Cheryl Buckwalter, Soleil Tranquilli and Marcia Scott.
Among the aspects they'll tackle:
* How to determine how much water you currently use to irrigate your landscape.
* What a Water Budget is and how to create one.
* How to use resources to help you determine the actual water needs of your plants.
* How to plan your "hydrozones" so plants with the same water needs are grouped together.
Once you learn those how-to's, you'll be ready to help your landscape live more beautifully – even on budget.
Register at:
bit.ly/HowMuchH2o
Learn more at
https://bewatersmart.info/
.