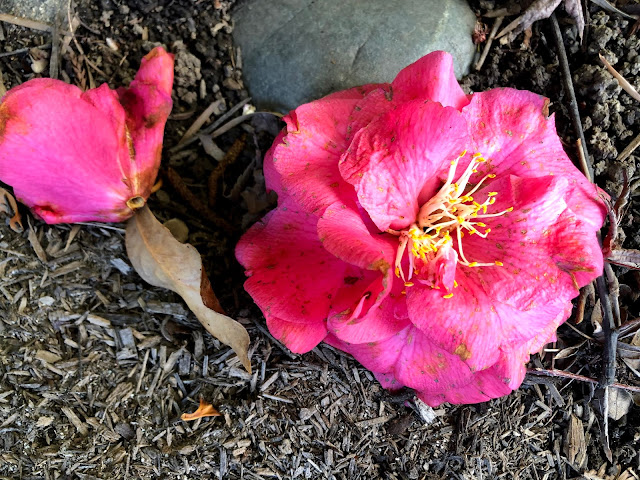 The camellias are blooming -- and dropping blossoms. Get them up quickly
to help prevent blossom blight. (Photo: Kathy Morrison)
Recent rain felt refreshing (although the hail hurt a little). But it will take a lot more precipitation to catch up with our March average. So far this month, Sacramento has received 0.55 inch – most of it falling in Tuesday's thunderstorms. According to the National Weather Service, Sacramento usually gets 1.28 inches in the first two weeks of March.
More showers are expected late Sunday night and early Monday, but the rest of the week is expected to be dry and cool. There's a slight chance of showers Friday, but otherwise we'll be mostly sunny.
Clear conditions contribute to cold nights, so overnight lows will dip down into the high 30s. That makes for a cold start to each day, and afternoon temperatures only in the low 60s. That's colder than normal for Sacramento in mid-March, which averages 65 in the afternoons and lows around 45.
So keep the tomatoes and peppers indoors a little while longer. The ground is still too cold.
Instead, it's time to weed and feed – but be careful using products that promise to do both. You may kill a lot more than unwanted dandelions.
* Fertilize roses, annual flowers and berries as spring growth begins to appear.
* Weed, weed, weed! It's either now or later.
* Harvest winter vegetables and make room for summer crops.
* Prepare vegetable beds. Spade in compost and other amendments.
*Feed camellias at the end of their bloom cycle. Pick up browned and fallen flowers to help corral blossom blight.
* Feed roses with a balanced fertilizer (such as 4-4-4, the ratio of nitrogen, phosphorus and potassium available in that product).
* Cut back and fertilize perennial herbs to encourage new growth.
* Transplant one last round of lettuce and kale.
* Seed chard, radishes and beets directly into the ground.
* Plant summer bulbs, including gladiolus, tuberous begonias and callas. Also plant dahlia tubers.
Correction note:
Due to a typo, the Friday post's cutline (since fixed) said the city of Sacramento's allowed watering period ends at 7 a.m. It should have said 10 a.m.