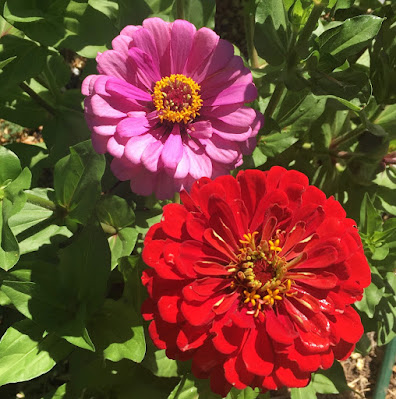 Zinnias do well started from seed, in pots or in the ground.
Watch the new Green Acres "Create Class" video on growing
flowers in pots. (Photo: Kathy Morrison)
Spring is literally right around the corner; the first official day is Saturday.
Get in the mood with a short video class presented by Green Acres Nursery & Supply.
Now available for viewing, this presentation – part of Green Acres' "Create Class" series – is devoted to growing flowers from
"Seed to Bouquet."
In under 6 minutes, learn tips on growing seasonal cut flowers in Sacramento – in containers. Whitney from the Green Acres staff demonstrates planting with advice on what to grow (including what's easiest to grow) and colorful combinations.
This new video is part of Green Acres' growing YouTube channel, featuring dozens of informative how-to videos. You'll also find videos from last week's Dig into Spring Ideas Fair including "Top 10 Mediterranean Plants" and "23 Questions with a Horticulture Teacher."
Green Acres' most popular videos? "Easy Houseplant: Philodendron" and "Citrus: Watering & Soil Mistakes to Avoid" have been viewed more than 23,000 times each.
Find them all here:
https://bit.ly/3bN2L3K
For more details:
www.idiggreenacres.com
.