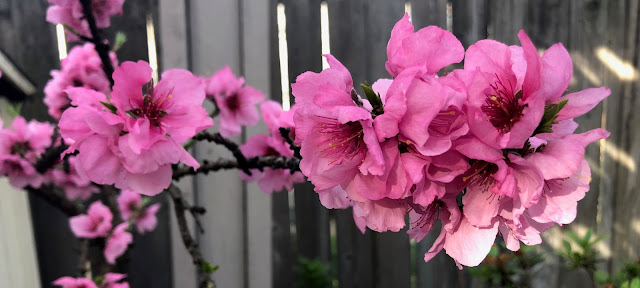 Thanks to more chill hours this winter, crops from peach trees (like this Honey Babe variety) and
apple trees should do well this year. (Photo: Kathy Morrison)
Sacramento may not have experienced much frost this winter, but we got plenty of chill.
That's important for many kinds of fruit and berries that require a big chunk of time in sub-45-degree conditions to set viable fruit.
Sacramento's chill season stretches from Nov. 1 to Feb. 28. During that period, we had only 11 nights that dipped down to 32 degrees or lower, concluding with two in January. According to the National Weather Service, 27 degrees on Jan. 26 was our coldest night this winter and our only hard frost of 2020-21. There were no 32-degree or colder nights in February.
But another pattern emerged in our winter weather – plenty of spring-like warmth. Our coldest night in January followed a near-record high of 74 degrees a week earlier.
December recorded three nights (Dec. 19, 23 and 30) that reached 32 degrees but also set a new record high for the month of 74 degrees (Dec. 7). November saw six nights that hit 31 or 32 degrees. However, that month also saw a balmy high of 83 degrees.
Fortunately, enough cold but not freezing nights compensated for all those warm days.
"What is interesting is the amount of chill hours and chill units we received this season," said Farmer Fred Hoffman, Sacramento's longtime gardening authority.
Hoffman has been keeping track of local chill hours for many years. According to his tally, communities in the Sacramento Valley received 730 to 1,012 chill hours between Nov. 1 and Feb. 28. Foothill gardeners got 859 to 1,195 chill hours during that same period.
That compares to 682 to 756 in the valley and 674 to 1,159 in the foothills during the winter of 2019-2020.
"Chill portions, which take into consideration how warm it gets during the day which negates the cold nights, also had good results; 77-81 in the valley," Hoffman said.
"I was told by one farm adviser that if you can accumulate over 67 chill portions, it'll be a good year for peaches," he added "It's like the good old days (2014)! It should be a good year for high-chill deciduous fruit trees, especially apples."
Gardeners will notice more fruit setting on their trees as well as more blueberries and blackberries.
Apples tend to need more than 50 chill portions. Peaches vary widely, but such old-fashioned favorites as O'Henry need at least 63 chill portions.
For a sampling of chill requirements, see this list compiled by the UC Davis' Fruit and Nut Research and Information Center:
https://bit.ly/3cAV6EQ