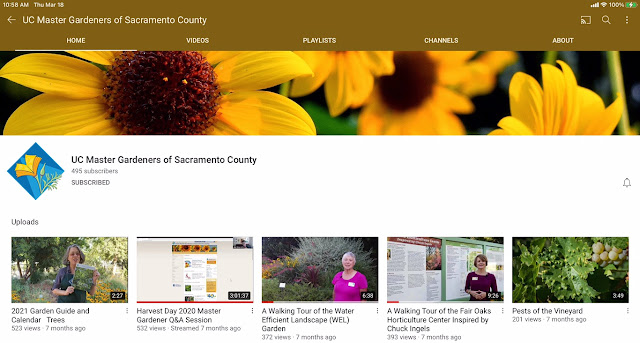 This is an iPad screenshot of the Sacramento County master gardeners YouTube channel. A new video on landscape redesign debuts Friday.

New YouTube video available for viewing Friday; check out others, too
Nothing beats watching a live demonstration of gardening techniques, but until we can all do that safely, there is YouTube.
The UCCE Sacramento County master gardeners are building a very helpful library of YouTube videos on local gardening tips and techniques. And I stress local, because we're not gardening in Michigan or the UK, are we?
The newest video debuts Friday, March 19, just in time for spring to arrive and gardening time to ramp up.
"Landscape Redesign: An Environmentally Friendly Approach" shows a real-life yard redesign, replacing a lawn with an interesting diversity of plants. The video shows to how conserve irrigation water as well as capture rainwater to recharge groundwater and minimize storm runoff.
As the master gardeners note, "Creating a garden with benefits now and for years to come is well worth the investment."
While you're waiting for this video to drop, check out the other videos on the Sacramento master gardeners' YouTube channel . If you subscribe to the channel, you'll get notifications of any new ones.
Many of the videos already there were filmed for last summer's virtual Harvest Day. Some that are relevant for early spring gardening include:
Make Your Garden Wildlife Friendly
Composting: ABCs of Building a Successful Compost Pile
On the Sacramento County YouTube home page is also a link to the statewide UCCE master gardener YouTube channel. The latest video there is How to Design a Home Vegetable Garden.
Of course the advantage to videos is viewing them at any hour, and as many times as desired. I really need to watch that Sharpening Hand Pruners video again!
To see what else the Sacramento County master gardeners have to offer, including many planting and growing guides, visit their website, http://sacmg.ucanr.edu/ .
-- Kathy Morrison