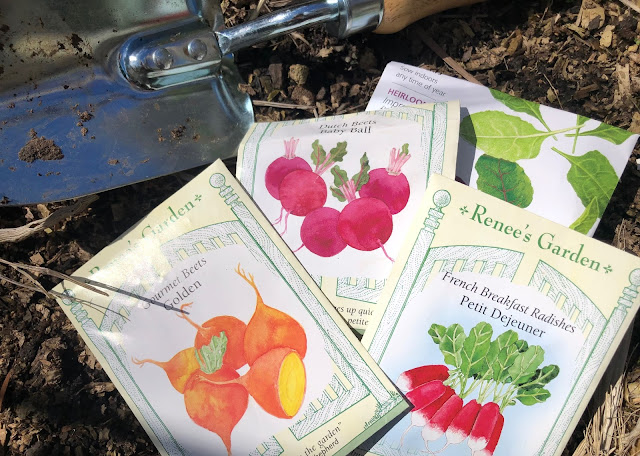 Get growing! Perfect time to plant beets, chard and radishes from seed. (Photo: Kathy Morrison)
Happy first day of spring! Expect flowers (and weeds!) to be popping up everywhere – especially with another wave of warm weather on its way.
According to the National Weather Service, this first week of spring will be dry and sunny with temperatures back in the low 70s by Tuesday. In other words, it's ideal spring planting weather.
On the downside, no rain is in the seven-day forecast and looks unlikely before month's end. That's not good news for water watchers.
So far in March, Sacramento has received 1.06 inches of rain, far short of the month's 3.4-inch average. For 2021, Sacramento's total rainfall measures only 4.46 inches, less than half of normal.
Our water year, which started Oct. 1, has totaled 6.54 inches, 8.77 inches below average. It's even drier than the 2019-20 water year, which had totaled 7.55 inches at this point. And that was a very dry year.
That's something to keep in mind when planting for late spring and summer. In the meantime, enjoy this first week of spring by showing your garden some TLC.
* Seed and renovate the lawn (if you still have one). Feed cool-season grasses such as bent, blue, rye and fescue with a slow-release fertilizer. Check the irrigation system and perform maintenance. Make sure sprinkler heads are turned toward the lawn, not the sidewalk.
* Fertilize roses, annual flowers and berries as spring growth begins to appear.
* Pull weeds now! Don't let them get started. Take a hoe and whack them as soon as they sprout.
* Start preparing vegetable beds. Spade in compost and other amendments.
* Cut back and fertilize perennial herbs to encourage new growth.
* In the vegetable garden, transplant lettuce and kale.
* Seed chard, radishes and beets directly into the ground.
* Plant summer bulbs, including gladiolus, tuberous begonias and callas. Also plant dahlia tubers.
* Shop for perennials. Many varieties are available in local nurseries. They can be transplanted now while the soil remains relatively cool.