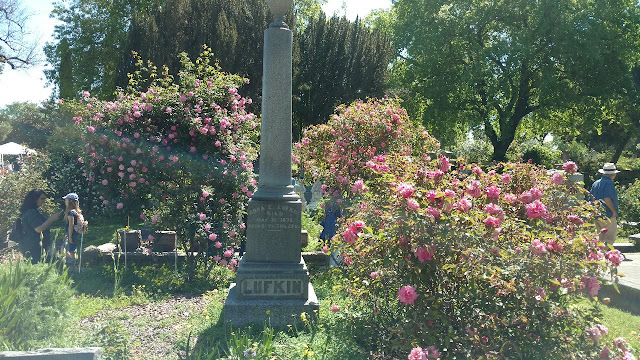 Open Gardens won't be happening this spring at Sacramento's Historic City Cemetery. This
photo is from the 2019 event. (Photo: Debbie Arrington)

Here's a reminder that COVID-19 is still with us: More canceled garden events.
The latest to be taken off the schedule is the 13th annual Sacramento Cymbidium Society show and sale, originally slated for Saturday. Out of an abundance of caution, the society notified Shepard Garden and Arts Center that it had decided to cancel its 2021 event, devoted to outdoor orchids.
That followed Shepard Center's own cancellation of its annual spring sale, originally scheduled for March 13 and 14.
In addition to the cymbidium cancellation, the Sacramento Orchid Society canceled its 74th annual show and sale. Usually held in April, that event traditionally packs the Scottish Rite Temple with exotic blooms.
Two major April rose events have been canceled, too. Open Gardens, a celebration of heritage roses and other plantings at Sacramento's Historic City Cemetery, was scrapped along with other in-person tours and events.
Before the pandemic wiped out its 2020 garden party, Open Gardens annually attracted thousands of rose lovers to see the cemetery's rose rarities at their height of spring bloom.
Although no tours or special events will be held this April, the City Cemetery is open to visitors from 7 a.m. to 7 p.m. daily. It's located at 1000 Broadway; free parking is available on surrounding surface streets.
Meanwhile, the Sacramento Rose Society canceled its 2021 spring show, usually held the last Saturday in April. The society's board made that decision in January, at the height of another COVID spike in Sacramento County. It followed the cancellation of its 2020 show, also due to pandemic precautions.
Instead, the Sacramento society will support its sister club, the Sierra Foothills Rose Society, when it hosts its fall show Oct. 16 at Folsom's Green Acres Nursery.
As more members get vaccinated, some clubs opted to move forward with their garden events. That includes two April garden shows at the Shepard Center: the Sacramento Iris Society show (set for April 17 and 18) and the Capital City African Violet Society show and sale (April 24 and 25).
Details:
www.sgaac.org
.