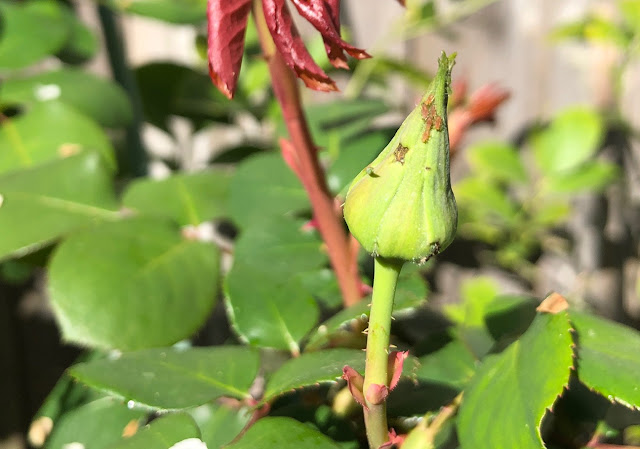 These aphids are starting to do their damage to a developing rose bud. The
warm weather has brought them out. (Photo: Kathy Morrison)
How can there be so many aphids so soon? Where did they come from?
Along with this beautiful weather came an onslaught of hungry aphids. They love warm (not hot) temperatures in the 65- to 80-degree range. Like this week's forecast.
According to the UC Cooperative Extension master gardeners, aphids can multiply so quickly because they can reproduce without sex. Each female aphid can birth a dozen baby aphids a day.
"When the weather is warm, many species of aphids can develop from newborn nymph to reproducing adult in seven to eight days," explain the master gardeners. "Because each adult aphid can produce up to 80 offspring in a matter of a week, aphid populations can increase with great speed."
Typically, Sacramento can see 12 to 20 generations of aphids between now and late fall, when cold weather finally halts this aphid population boom.
Ants often play a role in aphid attacks. Ants herd aphids onto plants, then harvest their honeydew, a sweet secretion that's mostly sugar. To ants, that honeydew is just like candy.
George Zaidan, author of "Ingredients: The Strange Chemistry of What We Put In Us and On Us," explains aphids' unusual cycle of life and their relationship to ants in this very fun video: "The bug that poops candy." View it here:
https://www.youtube.com/watch?v=LVdynVuJsBo
.
You'll never think about aphids, ants and honeydew the same way again.
As for controlling aphids, blast them off of plants with a strong stream of water. Their soft bodies can't survive the fall.
Or spray aphids on plants with insecticidal soap. Or make your own bug soap: Add 1 teaspoon liquid soap (such as Ivory or Dr. Bronner's) to 1 quart water. Put in a spray bottle and squirt away.
For more on aphids:
http://ipm.ucanr.edu/PMG/PESTNOTES/pn7404.html