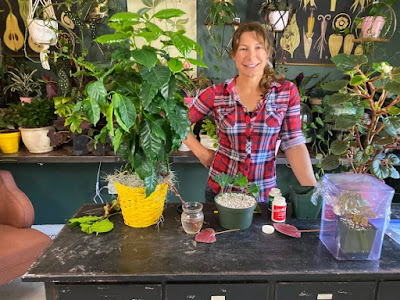 Marlene Simon will lead an online discussion of
Mediterranean plants on Wednesday at noon.
(Photo courtesy Marlene Simon)
Is your landscape ready for a long, dry summer? It may be – if you grow plants native to Mediterranean climates.
Learn about these super plants with built-in drought tolerance during a free webinar presented by the Regional Water Authority and hosted by California American Water.
Local expert Marlene Simon, "The Plant Lady," will lead the discussion during "Drought Tolerant/Mediterranean Climate Gardens," set for noon Wednesday, March 31. Simon will discuss the advantages of growing plants that are native to areas of the world with a similar climate to Sacramento.
"We have the advantage of living in one of only five Mediterranean climate zones but with that comes the need to be water-wise when it comes to plant selection," Simon says in her presentation's introduction. "In this webinar, you will learn the best choice of plants to limit water use, but at the same time achieving a beautiful garden/landscape year-round. Plus, I will include tips on amending soil to help those plants thrive."
The webinar is open to everyone, but registration is required. Register at:
bit.ly/Climate-Garden
More details:
https://bewatersmart.info
.