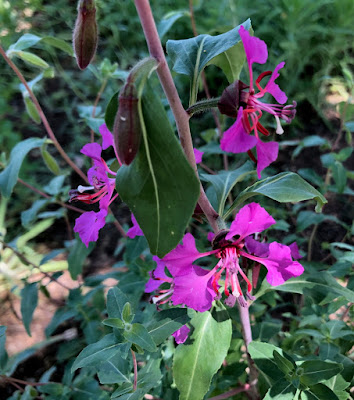 Elegant clarkia ( Clarkia unguiculata ) was one
of many California natives on view in a Davis
garden during the 2019 Gardens Gone Native
tour. (Photos: Kathy Morrison)
For more than a decade, Gardens Gone Native has been a staple of Sacramento spring, as local residents opened their gardens to share their love of California native plants.
But like so many other garden events, Gardens Gone Native is sitting out this April.
"Regrettably, the tour has been canceled," said Colene Rauh, the tour's chairperson.
The Sacramento Valley Chapter of the California Native Plant Society, which hosts the tour, posted this notice to its website: "Sadly, we regret that we will not be able to move forward as planned, however our primary concern is the health and safety of our wonderful tour supporters and hosts."
In April 2020, the chapter quickly pivoted Gardens Gone Native from an in-person garden tour to virtual event. In the early days of the pandemic, it was one of the first Sacramento-area events to do that successfully. Instead of inviting in scores of visitors, the participating gardens posted photos to the chapter's website with hopes of hosting a live tour in 2021.
"We begin planning in August of the previous year for the tour," Rauh explained. "In August of 2020, it was very unclear whether having 100 to 200 folks walk through your yard would be allowed. Or how our hosts would feel about it.
"In addition, I lost two critical resources I haven't been able to replace," she added. "I'm staying optimistic that will happen in the next few months."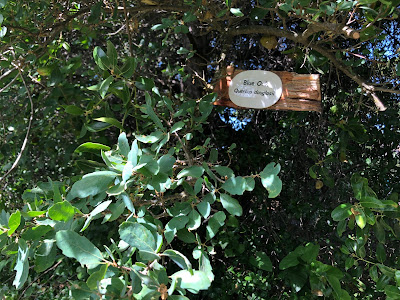 Visitors to a Sacramento garden on the 2019 tour saw labels
high and low on the native plants.
Instead of another virtual tour, the group opted to take a break.
"We decided to take this year off," Rauh said. "We are revamping and rethinking what the garden tour can be in 2022. ... It is a blank canvas right now."
Although there's no tour this April, interested gardeners can still virtually tour past participating gardens online. Hundreds of photos capture California natives looking their spring best in suburban Sacramento settings.
"You can still be inspired by
past year's images
of a variety of gardens that showcase the beauty, versatility, and wildlife habitat value of native plants as well as their role in water efficient landscapes," says the chapter. "We wish you all good health and hope to see you in person next year."
See the garden galleries here:
https://www.sacvalleycnps.org/native-plant-gardening/garden-tour
For more on native plants:
www.sacvalleycnps.org
.