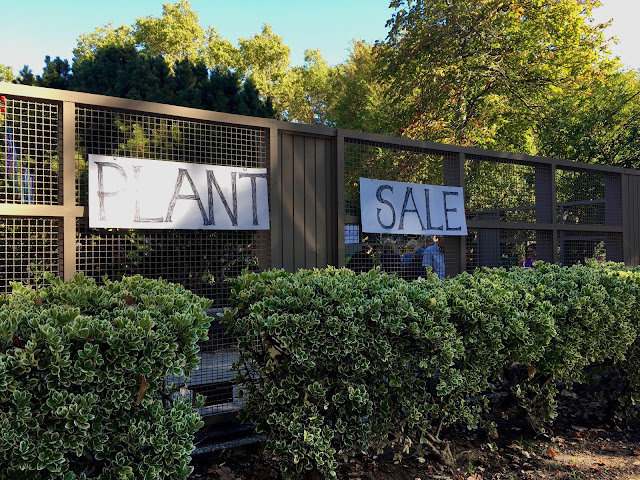 This is from a pre-COVID plant sale at Sacramento's Shepard Center, but the message is the same: Plants for sale all over the region this month. (Photo: Kathy Morrison)
April is once again going to be a busy month for fundraiser plant sales -- hooray! The rules are a little different for each one. Here are some to put on the calendar:
-- UCCE Yolo County master gardeners are in the midst of their pre-order drive-up sale at Woodland Community College, 2300 E. Gibson Road in Woodland. The deadline is already past for pickup this Saturday, but order by Tuesday, April 6, to pick up plants between 10 a.m. and 1 p.m. Saturday, April 10.
The Yolo plant list is at http://ucanr.edu/springplantsalelist , which includes useful notes on all the MGs' favorite tomatoes. Then order and pay at http://ucanr.edu/springplantsale . Note: Many of the varieties already are sold out, including nearly all the tomatoes, but it's worth checking the list to see what's still available. The one-gallon plants are $5 each; tomato plants $3 each, payable by debit or credit card only. Save the receipt to show at the pickup spot.
-- The UC Davis Arboretum Teaching Nursery throws open its online sale doors to the public for its next sale, April 8-12, with pickup available April 15-17 and 19-20. The updated plant inventory list has not been posted yet but should be soon. Go here for additional information on the sales.
-- El Dorado County master gardeners have two sale dates: 8 a.m. to 3 p.m. Saturday, April 17, with veggies,  fruits and herbs; and 8 a.m. to 3 p.m. Saturday, May 1, with trees, succulents, native and perennial plants and grasses.  The location is the Sherwood Demonstration Garden, 6699 Campus Drive, Placerville.
This sale is in person, by reservation OR walk-in, but they note that walk-in customers may have to wait in line before shopping. Masks and physical distancing required. To see the plant list or make a reservation, go to http://ucanr.edu/edcsale .
-- The Sacramento Iris Society, as Debbie reported earlier, will have its spring sale in person on the patio at the Shepard Garden and Arts Center in McKinley Park, 1-4 p.m. April 17-18. And we have it from a reliable source that the Perennial Plant Club also will be participating in the sale.
Other master gardener events coming up:
-- Composting class, online, 9 a.m. to 10:30 a.m. this Saturday, April 3, presented by the El Dorado County master gardeners. Registration is free but required here .
-- Gardening in the Digital Age,  online, 9 a.m. to 10:30 p.m., Saturday, April 10, presented by the UCCE Amador County master gardeners. Register here .
-- Gardening in a Changing Climate,  Zoom workshop, 10:30 a.m. to 11:30 a.m., Saturday, April 10, presented by the Placer County master gardeners. Go here to get the link and passcode. This is the first of five Zoom gardening workshops that the Placer MGs have scheduled this spring; check out the full list at http://pcmg.ucanr.org/