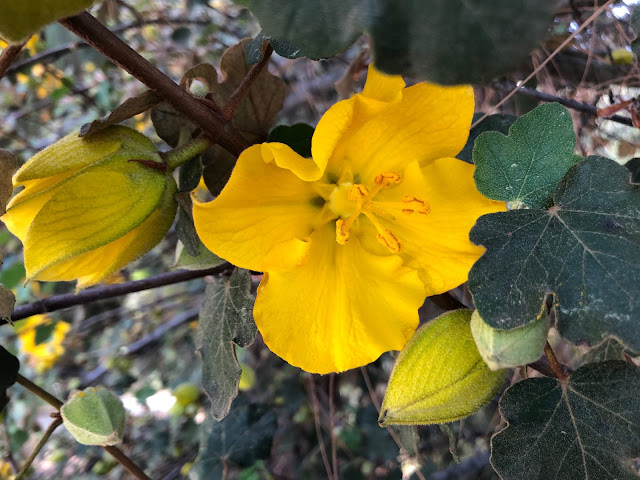 This flannel bush, a California native, grows in the UC Davis Arboretum, but gardeners looking for very-low-water plants may want to snap up one of their own during the UC Davis Arboretum Teaching Nursery sale starting Thursday.
(Photo: Kathy Morrison)
Here's the plant sale you've been waiting for: UC Davis Arboretum's first public spring sale of 2021.
No memberships necessary; you don't even have to wait in line for checkout.
As with its other recent members-only sales, this event will be held online, starting 1 p.m. Thursday, April 8. The sales window closes at 1 p.m. Monday, April 12.
Customers may place their orders and complete their transactions all via the arboretum's online store. As part of checkout, customers make a reservation for contactless curbside pickup the following week, April 15-20 (excluding Sunday, April 18). Pick-up is at the Arboretum Teaching Nursery on Garrod Drive on the UC Davis campus.
Implemented last fall to keep customers and sales crew safe during the pandemic, the new process is actually easier than attending an in-person sale. Past sales regularly attracted hundreds of shoppers who swarmed the one-acre Arboretum Teaching Nursery. Lines to get in and check out were often lengthy.
This way, customers can shop at their convenience and have more time to study their potential plant purchases.
For this sale, the inventory list has been updated and features 40 pages of selections including most of the Arboretum All-Stars and many flowering low-water plants that can't be found anywhere else in the Sacramento area.
And it's not too late to plant these un-thirsty perennials, shrubs, ground covers and more.
Members of Friends of the UC Davis Arboretum get a 10% discount. New members can join online, too.
Details and links to inventory list:
https://arboretum.ucdavis.edu/online-plant-sales