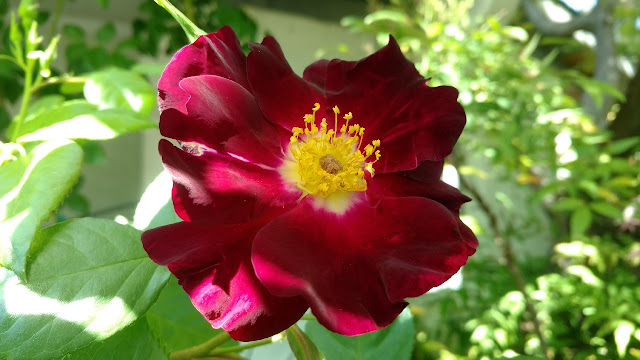 Night Owl is one of Debbie Arrington's many roses.The master rosarian talks
April rose care with Fred Hoffman on his Green Acres podcast. (Photo: Debbie
Arrington)
So much growth! So many bugs!
April is among the most active months in the rose garden. Thankfully, the bushes are doing most of the work, pushing out leaves and their first buds of spring. They just need some fertilizer, proper irrigation and a watchful eye.
Along with that big burst of bloom comes problem pests and disease. Rapid spring growth is a magnet for aphids. Hot, dry, dusty conditions can lead to spider mite infestations. And current temperatures are just right for outbreaks of powdery mildew and blackspot.
That gave host Farmer Fred Hoffman and myself plenty to talk about when I was his most recent guest on his "Green Acres Garden Podcast with Farmer Fred."
"Among the topics we talked about include controlling aphids, powdery mildew, spider mites and black spot; choosing the right fertilizers for your roses; tips on correct watering of roses in the ground or in containers – all great topics," Hoffman said.
What do you do when you see aphids nibbling on rose buds? Blast them off with a strong stream of water from the hose; their soft bodies won't survive the impact. Also effective: A few squirts of insecticidal soap.
But watch out for ants. Where there are aphids, ants often led them there. Controlling ants in the rose garden can help cut down on aphid problems, too.
Listen to the full podcast here:
https://www.buzzsprout.com/1610311/
More details:
www.farmerfred.com
.