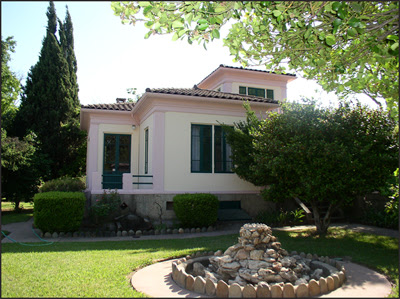 The 1920s classic Murer House this weekend will be
the site of the Folsom Garden Club's plant sale
and craft festival, a smaller version of the
club's usual late April event. (Photo courtesy
murerhouse.org)
Local garden clubs continue to take cautious baby steps back into "normal" activities. Spring is giving several groups a big push.
Among them is the Folsom Garden Club. This weekend, it will host its Spring Plant Sale and Crafts Festival at the Murer House, 1125 Joe Murer Court, Folsom.
Sale hours will be 11 a.m. to 5 p.m. Saturday and Sunday, April 24 and 25. Expect to find lots of vegetable seedlings as well as annual flowers, perennials, herbs and more.
Proceeds will benefit the club's college scholarship fund as well as support grants and community projects.
Usually, the Folsom Garden Club hosts its annual garden tour the last weekend in April, featuring beautiful local gardens, a bake sale, crafts fair and more. But due to the uncertainty surrounding such large public events this spring due to COVID, that tour has been canceled.
Instead, the club will rely on smaller scale events – such as this weekend's spring plant sale and craft festival – to do its fundraising and share the love of gardening.
For more details:
https://www.folsomgarden.org/
Boasting its own fine gardens, the Murer House is once again open for tours – but only once a month. Docents lead public tours from 10 a.m. to 2 p.m. on the first Saturday of each month.
For more on the Murer House:
http://murerhouse.org/
- Debbie Arrington