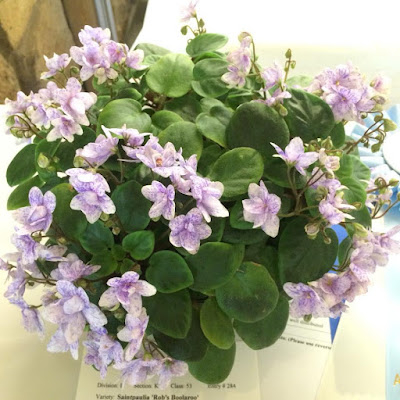 This beauty is identified as a Rob's Boolaroo variety of
African violet, a winner at a previous Capital City show.
(Photos courtesy Capital City African Violet Society)
While spring flowers are popping out all over, it's time to turn out attention to some indoor bloomers: African violets.
Saturday, April 24, the best African violets of the greater Sacramento region will be on display during the annual Capital City African Violet Society show and sale at the Shepard Garden and Arts Center in McKinley Park.
Open to the public from 10 a.m. to 4 p.m. Saturday, the show and sale will feature dozens of outstanding specimen plants in full bloom.
In addition, patrons can take home some beautiful violet plants. The event's sale will offer hundreds of plants in many hard-to-find varieties not available in local nurseries.
Canceled in 2020 due to the pandemic, this show and sale is always a wonderful spot to get advice about growing African violets, a longtime favorite houseplant. Society members can show how to replant an overgrown plant and other care tips.
If it seems this show is later than usual, it is. Traditionally, the Capital City African Violet Society show is held the first weekend in April. With the cancellation of the 2021 Sacramento Rose Society show, this prime Saturday became available.
As with all events at Shepard Center this spring, patrons should wear facemasks and stay socially distanced. Shepard Center is located at 3330 McKinley Blvd., Sacramento. Admission and parking are free.
Details and directions:
www.sgaac.org
.