Governor's emergency declaration is a reminder: Conserve now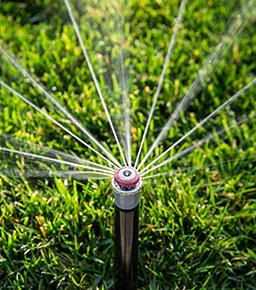 This is a high-efficiency rotary sprinkler head. It sprays
large droplets of water rather than fine mist.
(Photo courtesy of Hunter Industries)
Get ready for a water-wise summer.
Wednesday, Gov. Gavin Newsom declared a drought emergency in two counties – Sonoma and Mendocino – that have seen their watersheds hit hard by lack of rain as well as by wildfires. But Newsom decided not to declare a similar emergency for the whole state – even though most of California had an extremely dry winter.
Newsom's declaration recognized "drought or near-drought throughout many portions of the State," but he held off on imposing any water conservation mandates. For now, that's going to be up to the individual water providers.
So, the good news: We're not officially in a drought – yet. The bad news? Reserves are very low. Unless we see some extremely wet weather very soon, water conservation mandates may still be enacted later this year.
What's a Sacramento-area gardener to do? Be prepared. Start conserving now by cutting down on water waste.
Some simple steps can add up to huge savings – in both water and money, according to the Regional Water Authority, the umbrella organization over Sacramento-area water providers.
For example, high-efficiency rotary sprinkler heads can improve your sprinkler system's efficiency by 25 to 30%. That adds up to thousands of gallons saved each month.
Changing sprinkler heads is an easy retrofit that you can do yourself. All you need is a screwdriver.
Other huge water savers include installation of drip irrigation and smart irrigation controllers. Drip systems cut down on evaporation and deliver water where it's needed most – at the roots. Smart controllers factor weather into your landscape's water needs, automatically making adjustments.
More good news: Rebates for irrigation upgrades are available from many local water providers.
Learn more here:
https://bewatersmart.info/rebates-services/
Be proactive in water saving and get your rebates now!
As for water restrictions, stay on top of your provider's current guidelines.
For more information and links:
https://bewatersmart.info/watersmart/