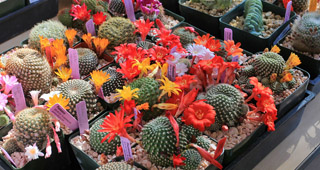 Cactus and succulents will be available for purchase during the three-day event
at the Shepard Garden and Arts Center. (Photo courtesy Sacramento Cactus and
Succulent Society)
Plant and flower shows are fun for club members (especially us competitive types), but most of the public comes to these events for one purpose: To see and buy plants.
That was the realization of leaders of the Sacramento Cactus and Succulent Society, which annually hosts its show and sale on the first weekend in May at Shepard Garden and Arts Center.
After canceling its 2020 show due to the pandemic, the society was faced with what to do this year. Its decision: Host a HUGE three-day plant sale.
Friday through Sunday, patrons will find an enormous selection of unusual cacti and succulents, including many hard-to-find varieties not available at local nurseries. In addition, pottery specifically designed for growing these unthirsty plants will be offered.
"We decided not to have a juried show and use the space for vendor tables instead," the society posted on its website. "All COVID-19-related protocols will be observed. Everybody— vendors, volunteers and visitors—will be required to wear a face covering at all times."
The event will have at least a dozen vendors. Among those expected for the sale are Peter Beiersdorfer, Naomi Bloss, David Calibo, Eddy and Larry Livermont, Bill Munkacsy, Cassidy Roberts-Yee, Stan Verkler, Peter Walkowiak, J.D. Wikert, Richard Withers and Annie Wolf.
Potters include Mark Muradian and Keith Taylor.
Club members get first entrance from noon to 1 p.m. Friday, April 30. Then the sale is open to the public from 1 to 6 p.m. Friday. The public sale continues from 9 a.m. to 6 p.m. Saturday, May 1, and 9 a.m. to 4 p.m. Sunday, May 2. Admission and parking are free.
Shepard Center is located at 3330 McKinley Blvd., Sacramento, in McKinley Park.
For details:
https://sacramentocss.com/
.