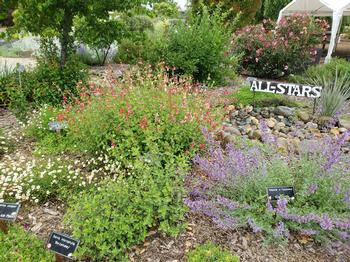 The Sherwood Demonstration Garden in Placerville
will be the site of the plant sale Saturday. (Photo
courtesy UCCE Master Gardeners of El Dorado County)
It's time to mark your calendar for another great plant sale! Instead of the usual veggies and flowers, this sale is dedicated to landscape mainstays including trees, shrubs, perennials, succulents, native plants and grasses. Another plus: Many of the varieties are proven performers in the foothills.
UC Cooperative Extension Master Gardeners of El Dorado County will offer hundreds of landscape plants from 8 a.m. to 3 p.m. Saturday, May 1. The socially distanced event will be held at the master gardeners' Sherwood Demonstration Garden, 6699 Campus Drive, Placerville. The garden is located at Folsom Lake College's El Dorado Center campus.
Patrons have two options: They can just show up and wait in line; or  make an advance reservation with a specific time slot. The reservation system (which was filling up quickly) allows the master gardeners to make sure there's plenty of space for shoppers to stay socially distanced and comfortable while browsing.
Remember: Face masks will be required, too.
Shoppers can get a head start on their selections by viewing the sales inventory list. (There's a lot to choose from!)
To see the plant list or see if reservations are still available, go to
http://ucanr.edu/edcsale
.