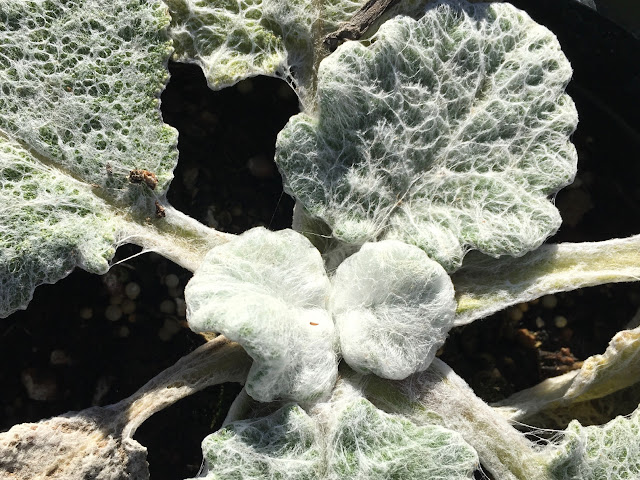 This cool-looking plant is Salvia argentea , or silver sage, a low-water perennial. The UC Davis Arboretum Teaching Nursery had 39 of these available as 4-inch pots at the start of the latest sale today. (Photo: Kathy Morrison)
We're not done with spring plant sales. Take a look:
-- From 1 p.m. today through Monday, the UC Davis Arboretum Teaching Nursery holds its fourth spring online plant sale. Still many great plants in stock, including natives, Arboretum All-Stars, shrubs, trees and herbs. To see the plant list, visit this page and open either the pdf or Excel list. Curbside pickup will be scheduled May 6-11, Sunday excluded. Go other here for plant sale details and how to join the Friends of the Arboretum, who get 10 percent off on their purchases.
And for those who like to plan ahead, the teaching nursery's online clearance sale will be May 20-24, with pickup available May 27-May 29 and June 1-2; no pickup Sunday, May 30, or on Memorial Day, May 31.
-- Saturday, May 8, is the date for the annual plant sale by the Roseville Better Gardens Club, 9 a.m. to 1 p.m. at Valley Springs Presbyterian Church,  2401 Olympus Drive, Roseville. This is a new location for the sale; the church is off Professional Drive/Douglas Boulevard, east of Interstate 80.
The club says there will be locally grown plants including veggies, annual and perennial flowers, ornamental grasses, houseplants, cacti and succulents. In addition there will be fresh flower arrangements,  garden items, garden art, baked goods and books.
This sale is strictly cash only.
These sales,  like earlier ones, help fund the organizations and their efforts in the community. The Arboretum sale page notes:  "By shopping these sales, you support the UC Davis Arboretum and Public Garden's environmental leadership programs, the growth of our gardens and collections and the wide variety of free, educational events we offer the public."
Proceeds from the Roseville Better Garden Club's sale help fund its scholarship program as well as educate the community about gardening, conservation and wildlife.
So what better reason is there to buy some more plants?
-- Kathy Morrison