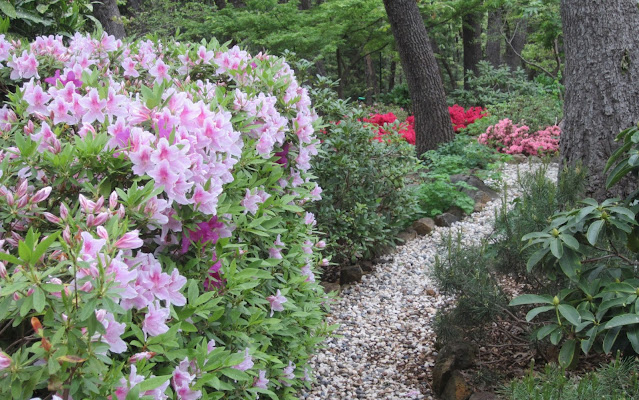 This inviting view is at Buena Vista Flower Garden in Grass Valley. (Photos courtesy LeRoy Hall)
LeRoy and Sally Hall turned their home in Grass Valley into a shady sanctuary, full of flowers. More than an acre is fully landscaped with hundreds of blooming shrubs and perennials.
The couple named their place "Buena Vista Flower Garden." And this spring, the Halls are sharing that spectacle with anyone who wants to make the drive.
"We are opening our flower garden for visitors to tour our landscaped one-acre garden," LeRoy Hall said. "Hundreds of flowering sun- and shade-loving plants, shrubs and trees including roses, azaleas, rhododendrons, peonies, camellias, hydrangeas, etc. All viewed from our sidewalks, paths and stepping stones."
Buena Vista will be open to visitors 10 a.m. to 4 p.m. Wednesdays and Saturdays in May and June, the months when the garden is at its best.
Best of all: Admission is free. There are more than a mile of paths through the garden. The Halls request that COVID protocol (masks and social distancing) be followed, and no dogs please.
In recent years, the Halls have shared their garden as part of the Soroptomists' annual spring tour.
"With this crazy COVID year we've had, this will be the second year the Soroptomists have canceled their yearly garden tour and it appears that others have put their tours on hold," Hall said.
It would be a shame not to share just a spectacular spring garden, so the Halls decided to hold their own one-stop tour two days a week.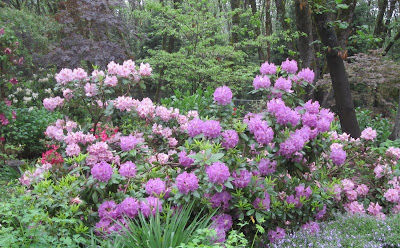 Rhododendrons are part of the spectacular display.
"Lots of the 200 azaleas are getting started or going strong and the sun azaleas are spectacular this year," Hall said. "The rhodies – about 100 of them -- are just getting started. And the lupine, columbine, foxgloves and peonies are getting ready to pop"
The Halls also have more than 250 roses, which will be putting on their best show later in May.
Among the regular visitors to the Halls' property: Deer. The couple have figured out how to coexist with wildlife with beautiful results.
Buena Vista Flower Garden is located at 14013 Meadow View Drive, Grass Valley.
For details or directions, email the Halls at
leroy1sally2@att.net
.