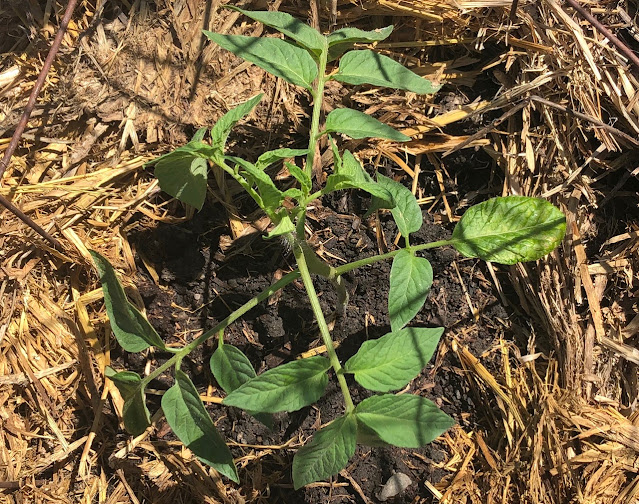 With this stretch of above-normal temperatures, tomato plants and other summer
vegetables will take off. Mulch helps keep the soil from drying out too fast. (Photo: Kathy Morrison)
Tomato weather is here! May starts out feeling like summer. According to the National Weather Service, Sacramento can expect at least three days in the low 90s before a welcome cool down to 78 degrees Friday.
What's normal for May? Sacramento averages highs of 80 degrees and lows of 51 this month.
Our streak of above-normal temperatures continues after dark, too. Overnight lows are solidly in the 50s, edging up to 60 degrees by midweek. Those evening temperatures will steadily warm soil – ideal for planting summer seedlings.
So, get those tomato transplants in the ground along with peppers, eggplants, squash, cucumbers and other heat-loving favorites.
* Pinch off any flowers on new transplants to make them concentrate on establishing roots instead of setting premature fruit.
* Direct-seed melons, cucumbers, summer squash, corn, radishes, pumpkins and annual herbs such as basil.
* Harvest cabbage, lettuce, peas and green onions.
* In the flower garden, direct-seed sunflowers, cosmos, salvia, zinnias, marigolds, celosia and asters. (You also can transplant seedlings for many of the same flowers.)
* Plant dahlia tubers.
* Transplant petunias and perennial flowers such as astilbe, columbine, coneflowers, coreopsis, dahlias, rudbeckia and verbena.
* Keep an eye out for slugs, snails, earwigs and aphids that want to dine on tender new growth.
* Feed summer bloomers with a balanced fertilizer.
* For continued bloom, cut off spent flowers on roses as well as other flowering plants.
* Don't forget to water. Seedlings need moisture. Deep watering will help build strong roots and healthy plants.