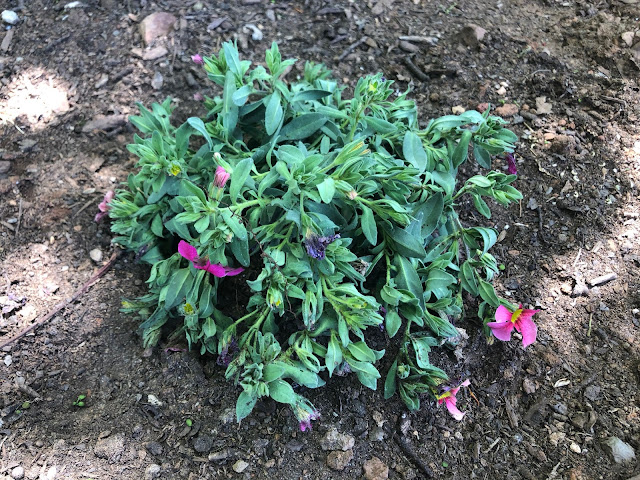 Looks like this calibrachoa could use some water. The windy conditions are drying
plants out faster normal, so stay aware of garden irrigation needs. Mulch also
helps keep the soil from drying out. (Photo: Kathy Morrison)
Hear that wind? Feel that heat? Wildfire season has already arrived in the Central Valley, which means we all need to be extra vigilant when outdoors.
According to the National Weather Service, Mother's Day weekend in Sacramento will see blustery winds blowing 10 to 15 miles per hour with gusts hitting 35 to 40 miles per hour. Those winds will continue through Monday night and are coupled with high temperatures right around 90 degrees. With humidity already low, that makes for extremely dry conditions.
A small spark can quickly turn into a blaze, be it in the wilderness or your own backyard. The weather service warns not to use power tools in tall grass or around rocks – anywhere that might cause a spark.
Meanwhile, that wind also sucks the moisture right out of tender transplants and new growth. Make sure to keep seedlings irrigated. Put down some extra mulch to help retain soil moisture.
Once the wind dies down, temperatures will continue to run about 10 degrees above normal with a steady string of 90s at least through Thursday. Get your gardening done in the morning.
What needs attention this week?
* Keep an eye out for slugs, snails, earwigs and aphids that want to dine on tender new growth.
* Weed, weed, weed. Keep an eye out for rapidly growing bindweed and nutgrass. Don't let grasses go to seed.
* Feed summer bloomers with a balanced fertilizer.
* For continued bloom, cut off spent flowers on roses as well as other flowering plants.
* As spring-flowering shrubs finish blooming, give them a little pruning to shape them, removing old and dead wood. Lightly trim azaleas, fuchsias and marguerites for bushier plants.
* Harvest strawberries, cabbage, lettuce, spinach, peas and green onions.
* Transplant tomatoes, peppers, eggplant, squash, melons, cucumber and other summer veggies.
* Direct-seed melons, cucumbers, summer squash, corn, radishes, pumpkins and annual herbs such as basil.
* In the flower garden, direct-seed or transplant sunflowers, cosmos, salvia, zinnias, marigolds, celosia and asters.
* Plant dahlia tubers.
* Transplant summer annuals and perennials.