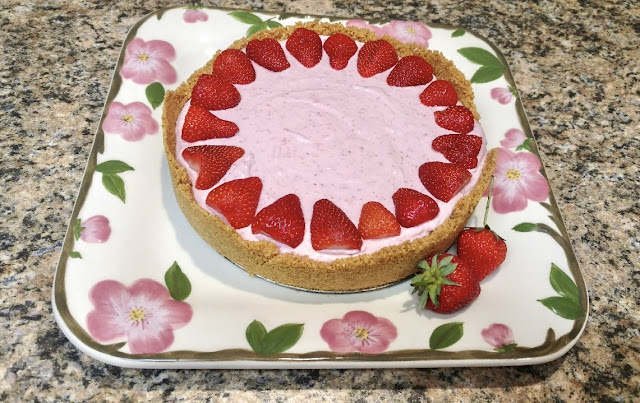 No oven was turned on in the making of this fresh strawberry cheesecake. (Photos: Debbie Arrington)
It was too hot to bake this Mother's Day weekend -- and I needed to make a special dessert.

Newly vaccinated, our family was gathering for the first time in many months. I had all the ingredients for a conventional cheesecake (the original plan) topped with home-grown strawberries.

Instead of turning on the oven, I mixed the strawberries with the cream cheese for a light and delightful no-bake cheesecake.

This recipe was inspired by one featured recently in Relish magazine. (The magazine called it "Strawberry Cream Cheese Tart.")
Made in a springform pan, it looks like a baked cheesecake, but has a fluffier texture -- it has no eggs and only one package of cream cheese. It can also be made in a 9-inch pie pan.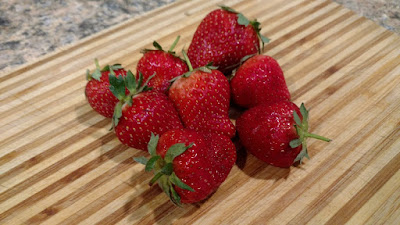 Strawberries have done well this year in the garden.

Fresh strawberry no-bake cheesecake
Makes 1 cheesecake; 8 to 12 servings

Ingredients:
2 cups graham cracker crumbs
1 cube (8 ounces) butter or margarine, melted
1 pint fresh strawberries, hulled and halved, plus more for garnish
2 tablespoons sugar
1 package (8 ounces) cream cheese, softened
2 teaspoons vanilla
2/3 cup sugar
1 cup heavy whipping cream

Instructions:
Grease 8-inch springboard pan or 8- or 9-inch pie pan.

In a bowl, combine graham cracker crumbs and melted butter. Press crumb mixture into pan. Put pan in freezer and chill at least 1 hour.

Put strawberries and 2 tablespoons sugar in food processor or blender and puree. Transfer strawberry puree to saucepan and bring boil. Reduce heat and simmer, stirring occasionally, until strawberry puree reduces by half. Remove from heat and cool.

With an electric mixer, beat cream cheese until smooth. Add vanilla and sugar, then beat until blended. Add cooled strawberry puree. Mix until smooth. Add whipping cream. Beat until soft peaks form.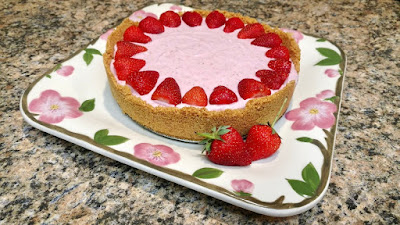 Don't forget to save some strawberries for garnish.
Remove crust from freezer. Pour strawberry-cream cheese filling into crust. Cover top with plastic wrap and chill in refrigerator 5 hours or overnight.

Garnish with fresh berries just before serving.

Serve chilled.