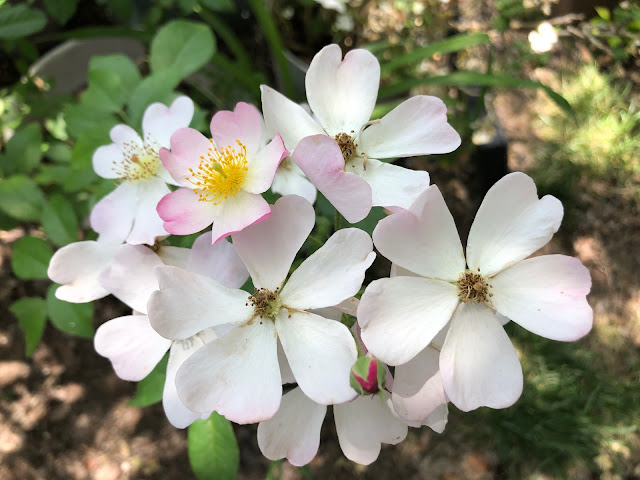 Lyda Rose is fragrant and does well in part shade. It will be among the varieties
on sale Thursday. (Photo: Kathy Morrison)
When's the best time to pick out a new rose bush? Usually, when it's in bloom (or just about to flower), so you can preview how that bush will look and perform in your garden. This is especially true of unusual varieties that rarely if ever show up in nurseries.
Find rose rarities and more – including many in bloom – at a special spring sale hosted by the Sacramento Rose Society.
From 2 to 3:30 p.m. Thursday, May 13, the club will host a plant sale during its regular meeting at Shepard Garden and Arts Center, 3330 McKinley Blvd., Sacramento, in McKinley Park. The public is welcome. Admission and parking are free.
Featuring dozens of rose bushes grown on their own roots, the sale will be held outdoors on the center's patio. Please observe COVID precautions; wear a face mask and stay socially distanced.
Sales will be by cash or check only.
Most of the roses will be sold in 1-gallon pots. Among the bushes offered will be some exceptionally fragrant varieties such as Lyda Rose and several polyanthas.
Don't think you have any room for (more) roses? Most of the varieties offered in this special sale will be miniatures. Many were grown from cuttings from the huge collection of noted rose authority Baldo Villegas. These bushes mostly stay under 2 feet in height and width, and grow very well in pots.
And they have such cute names! Some examples from this sale: Bee's Knees, Child's Play, Gizmo and Hello Sunshine!
Even rose enthusiasts can't live on roses alone. Grown by club members, several other kinds of plants will be offered, too, including ground covers and companion plants that grow well with roses.
For a mini-catalog of roses in this sale (with photos), email me at
debarrington17@gmail.com
.
— Debbie Arrington