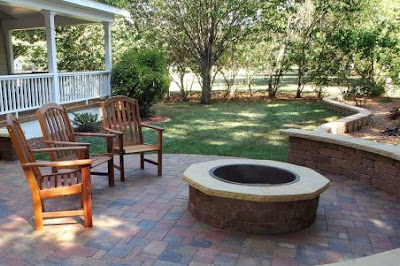 This is the Grand Prize fire pit by Gloria Landscaping to be
given away at the show. (Photos courtesy
Auburn Home Shows)


One more sign that life is returning to almost normal: An in-person home and garden show!
After a year off due to the pandemic, the Auburn Spring Home Show returns to the Gold Country Fairgrounds for three days of exhibits, vendors and lots of mostly outdoor recreational shopping.
Open this Friday through Sunday, the event will still observe COVID protocols including face masks and social distancing. Many vendors will use outdoor booths to show off their wares and services.
Hours are: 11 a.m. to 6 p.m. Friday, May 14; 10 a.m. to 6 p.m. Saturday, May 15; and 10 a.m. to 5 p.m. Sunday, May 16.
Although somewhat scaled back compared to past years, this is going to be a big event. Organizers expect about 1,000 exhibits and vendors, ranging from landscaped vignettes to an International Food Court.
Among the highlights: Landscapers Meadow. Like a park within the fairgrounds, it features show gardens created by local landscape designers. Shaded by trees, it's an oasis of ideas as well as a cool place to take a break.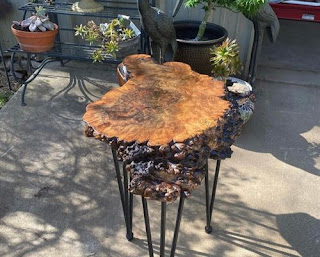 This recycled wood table is made by Urban Wood Network.
Also featured this week will be the work of "tree recyclers" such as Urban Wood Network and Far West Forest Products, who turn fallen or dead trees or other salvaged wood into home furnishings.
Auburn Home Shows always feature a great giveaway. This year's grand prize: An outdoor firepit with custom seating wall, created by Gloria Landscaping.
General admission is $8. Youth age 12 and younger admitted free. Friday is Seniors Day with $3 admission for patrons age 62 and older. Active and retired military, police, fire and first responders admitted free with ID. Parking: $6. No pets please; no animals are allowed except service animals.
Gold Country Fairgrounds is located at 1273 High St., Auburn. The parking lot is located at 209 Fairgate Road, Auburn.
Full details including discount coupons and vendor maps:
www.auburnhomeshows.com
.
- Debbie Arrington