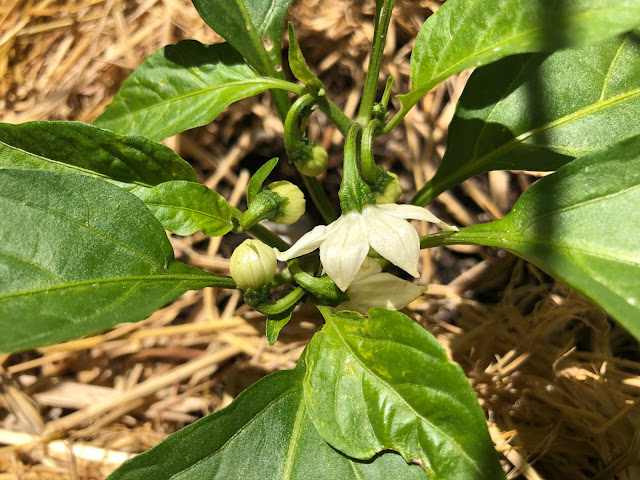 It's always exciting to see flowers on vegetable plants, but this pepper was just planted, so it's better to remove the early flowers and let the plant concentrate
its energy on establishing its roots. (Photo: Kathy Morrison)
What a difference a few clouds make!
This weekend, a Sierra-bound storm system significantly cooled high temperatures in the greater Sacramento area. The foothills may see thunderstorms, but most of that moisture will miss the valley.

The good news: Those cloudy, breezy conditions dropped high temperatures 15 degrees. And according to the National Weather Service, those lower temperatures will stick around. Instead of the mid 90s, afternoon highs will barely nudge 80 – which is the average high for mid-May in Sacramento. Our days will be mostly sunny in the 70s all week, with overnight lows staying comfortably in the 50s.

So, plant something! These are near-perfect conditions for transplanting tomatoes and other summer veggies as well as annuals or perennials. Our May weather won't get any better than this.

* Set out those tomato transplants along with peppers and eggplants. Pinch off any flowers on new transplants to make them concentrate on establishing roots instead of setting premature fruit.

* Direct-seed melons, cucumbers, summer squash, corn, radishes, pumpkins and annual herbs such as basil.

* In the flower garden, direct-seed sunflowers, cosmos, salvia, zinnias, marigolds, celosia and asters. Or transplant seedlings for many of the same flowers.

* Plant dahlia tubers.

* Transplant petunias, marigolds and perennial flowers such as astilbe, columbine, coneflowers, coreopsis, rudbeckia and verbena.

* Keep an eye out for slugs, snails, earwigs and aphids that want to dine on tender new growth.

* Feed summer bloomers with a balanced fertilizer.

* For continued bloom, cut off spent flowers on roses as well as other flowering plants.

* Don't forget to water. Seedlings need moisture. Deep watering will help build strong roots and healthy plants.