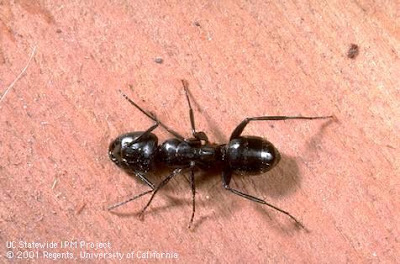 This is a carpenter ant, which can be found in tree stumps,
firewood, fence posts, hollow doors or window frames.
(Photo by Jack Kelly Clark, courtesy UC IPM)
It's a common spring refrain: What's eating my garden?! That's coupled with an equally common complaint: What's biting me?!
Find out during an informative webinar presented by the UC Statewide Integrated Pest Management Program.
Set for 1 p.m. Thursday, May 20, "Springtime Household Pests" will look at the many bugs and other critters that may invade our homes this time of year. People may be familiar with ants and roaches, but they're only part of a parade of potential pests. Conditions right now are particularly bad (from a people perspective) for invasive mosquitoes.
"This webinar will cover identification and management of pests encountered in the home during springtime, including carpet beetles, fleas and fungus gnats associated with houseplants," according to the UC IPM team.
Dr. Andrew Sutherland, the urban IPM adviser for the San Francisco Bay Area, will present the 1-hour workshop, focusing on pests most common in California. Registration is free, but required to get the link and password. Find link and details here:
https://ucanr.edu/sites/ucipm-community-webinars/
.
This webinar is part of a new monthly series presented by UC IPM experts at 1 p.m. the third Thursday of each month.
Next up at 1 p.m. June 17: "IPM for Rodents." Learn how to outsmart Norway rats, roof rats, mice and other common rodents – maybe even squirrels!
Use the same registration link for details.