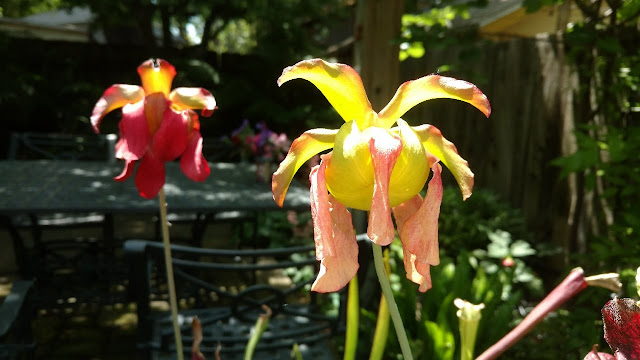 Pitcher plants in bloom look like something from another planet. Learn about
them in a Zoom workshop May 26. (Photos: Debbie Arrington)
These flowers are fascinating, fun – and hungry. And several varieties feel right at home in Sacramento.
Feeding on trapped bugs, carnivorous plants make their own fertilizer. They're an instant conversation starter in any garden. Some, such as the California pitcher plant or cobra lily, are native, too.
Learn how to grow these botanical oddities during a free Zoom workshop at 5:30 p.m. Wednesday, May 26, hosted by Exotic Plants.
For the link to the class, email
exoticplants@att.net
or call 916-922-4769.
Exotic Plants, Sacramento's stellar houseplant specialist, is getting back into the swing of events with a mix of in-person and online workshops.
On June 5, the large plant store will host an outdoor tent sale from 11 a.m. to 3 p.m. It's part of a series of tent sales the first Saturday of each month.
Just in time for Father's Day, Exotic Plants will host one of its popular "Swig and Dig" in-person workshops at 5:30 p.m. June 18. Participants sip the beverage of their choice while getting their hands dirty. The evening's project will be a bonsai to take home. Registration is $100. Seats are going fast; sign up now via
eventbrite.com
or by calling the store.
Exotic Plants is located at 1525 Fulton Ave., Sacramento. For more details:
www.exoticplantsltd.com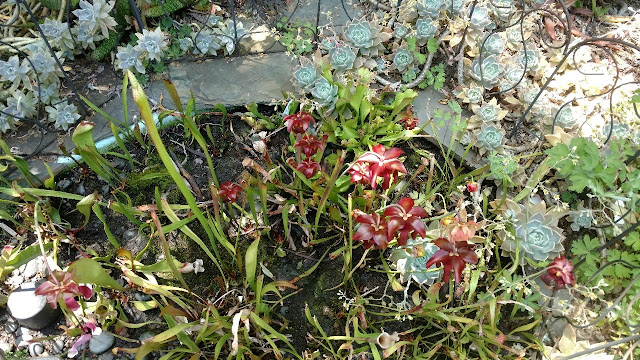 These dark red pitcher plants are California pitcher plants or cobra lilies, growing outdoors in Sacramento.