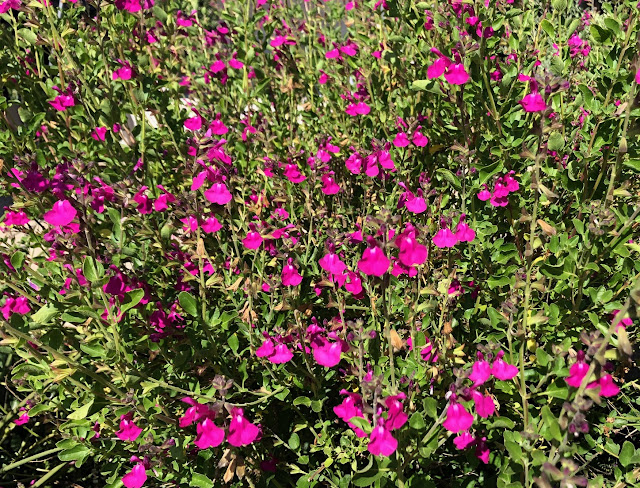 Love salvia? You're not alone. The Arboretum Nursery will have about 30 varieties of salvia — several hundred plants — on clearance. (Photo: Kathy Morrison)
Ever wanted to own a Purple People Eater? How about a Red Wiggle stonecrop? And who could resist planting a chocolate vine in their garden?
These are just three of the hundreds of plants on clearance, online only, starting at 1 p.m. today (Thursday) and continuing until 1 p.m. Monday at the UC Davis Arboretum Teaching Nursery.
It's the final sale of the spring, and plants are priced to move -- really. Members of Friend of the Arboretum get 30 percent off the listed price of each plant; 1-gallon plants run $10 to $12 generally, so that is a significant discount.
The general public saves 20 percent on each plant, which knocks a $7.50 4-inch plant down to $6 — a great price for a plant that was grown in our climate, for our climate. And all sales benefit the Arboretum and its Teaching Nursery educational programs.
Curbside pickup at the nursery (on the UC Davis campus) is offered for all online orders. Customers choose a pickup time when they pay, from a slot offered May 27 to June 2, but excluding Sunday (May 30) and Monday (May 31).
The sale page can be found here . There's also a link on the page that brings up the full inventory. It is a clearance, so some favorites might not be on there. But if you're looking for salvia, cranesbill or coffeeberry plants, this is a great time to get them.
The Purple People eater, by the way, is a mangave succulent. And there's only one chocolate vine this sale, so move fast if you want it.
For more on the UC Davis Arboretum and Public Garden, including how to become a Member, visit https://arboretum.ucdavis.edu/
-- Kathy Morrison