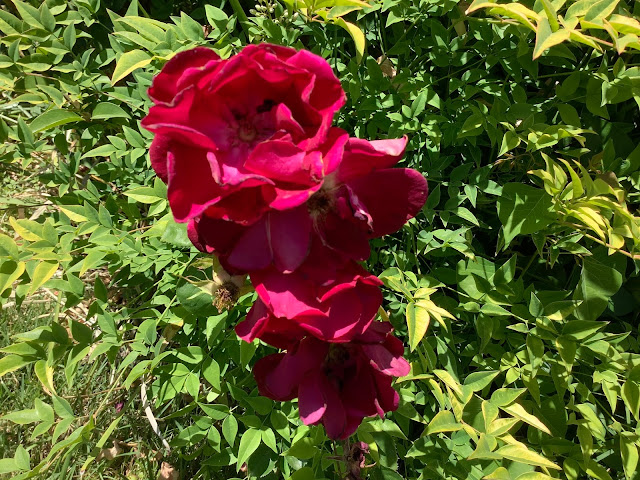 Dr. Huey usually is grown for rootstock. If it shoots up canes and is allowed to form buds, it blooms just once a year. (Photos: Debbie Arrington)
Is Dr. Huey in your garden?
The most common rose in bloom in Sacramento right now is a little wine-red semi-double flower that almost no one planted on purpose. Inadvertently, it's probably the most commonly grown rose in the United States.
Why? Because Dr. Huey won't stay buried, even though it's grown almost exclusively for its roots.
In spring, Dr. Huey can create the illusion of two different roses blooming on the same bush; a pink or other familiar hybrid rose on top, then this small velvety red rose near the bush's base or at the end of long smooth canes. Dr. Huey is also responsible when, for example, an all-yellow bush turns all red.
Its tenacity is why Dr. Huey is at the base of countless hybrid roses (especially hybrid teas, floribundas and grandifloras). Dr. Huey has been California's go-to rootstock for roses for generations.
Dr. Huey wasn't bred for this job. Created in 1914 and introduced commercially in 1920, it's a hybrid Wichurana rambler; its flexible and fast-growing canes make it ideal for arbors, trellises, fences or other climbing rose roles. (Its drawbacks: Dr. Huey blooms only once a year and it's prone to fungal disease.)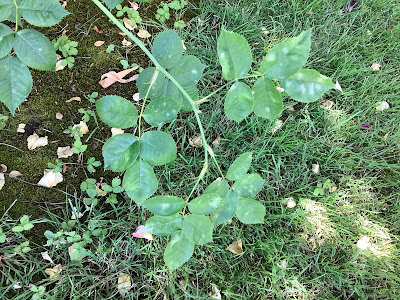 These Dr. Huey leaves show signs of powdery mildew.
Dr. Huey was among more than 1,200 varieties bred by George C. Thomas Jr., a golf course architect and rose hybridizer. Among Thomas' golf courses are several Los Angeles landmarks including Riviera Country Club and Bel-Air Country Club. With partner William Bell, Thomas also designed the Stanford University Golf Course.
Rose-wise, Thomas was looking for something that could grow vigorously in his hometown of Philadelphia as well as his adopted state of California, where he designed more than 20 golf courses.
Dr. Huey was something that could cover a fence with velvety red blooms, and not that many prickles.
That lack of thorns as well as hardy roots made Dr. Huey a favorite with California's commercial rose growers. They grow Dr. Huey by the thousands, just for its roots.
Rootstock is an important part of the rose business. Hybrid roses are usually grafted, speeding up the process of producing a mature, blooming (and marketable) bush by two or three years. In rose grafting, the plant above ground is not the same variety as the plant below ground.
How do you graft a rose? Rose growers have been following this basic procedure since the 1800s.
A rootstock rose plant (in this case, Dr. Huey) is grown to maturity. T-shaped cuts are made in the bark of its main stem and cuttings (or "bud wood") of the desired rose variety are inserted. The "bud union" is wrapped securely with flexible tape and allowed to heal. The cuttings eventually take hold and grow. At that point, the branches of the rootstock plant are removed, leaving only the grafted bud wood to grow. That creates the grafted bush – two roses in one.
So many Dr. Huey plants were grown in Kern County (the heart of California's rose industry), Dr. Huey also has been nicknamed the "Shafter rose" (after that small farm town).
Dr. Huey's smooth bark and vigorous roots make it ideal for grafting and its supporting role. As a rambler, its roots naturally grow deep, giving the bush support and drought tolerance.
Except Dr. Huey craves the light of day. Those strong roots keep pushing out new green canes that fight the grafted bush above for nutrients and space. If not cut out, those canes can strangle the grafted variety. (In such battles, Dr. Huey always wins.)
Another drawback, Dr. Huey's foliage is prone to fungal disease, especially powdery mildew, blackspot and rust. Those canes can transmit those fungal diseases to the grafted bush (as well as other roses and plants), causing foliage to drop off.
If left alone in the garden, Dr. Huey will lose all its leaves to fungal disease before summer's end, looking like a bramble of long naked canes.
Right now, Dr. Huey may look cute. But remember, this rose is best kept out of sight.