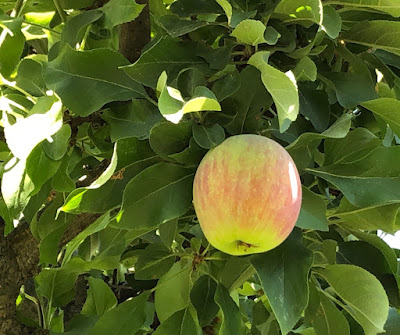 Get a free fruit tree (apple here for illustration) and help the
community at the same time during a planting day this Friday.
(Photo: Kathy Morrison)
Help a community grow its own fruit – and get a free fruit tree, too!
Ninos Community Garden, part of the City of Sacramento's community garden network, is hosting a fruit tree planting day from 8 a.m. to noon Friday, June 11.
Serving Sacramento's Gardenland Northgate neighborhood, the Ninos Community Garden is located at 703 Northfield Drive, Sacramento. Featuring 40 plots and lots of open space, the garden opened in 2016.
The plan has been to add fruit trees and shrubs to the site for some time to create a community orchard for the Ninos Garden.
"To make planting easier, the holes will have been pre-dug," said Bill Maynard, the city's community garden coordinator. "Those that help plant the 60 or so trees and shrubs will be given a fruit tree to take home."
If interested, please sign up:
https://www.handsonsacto.org/opportunity/a0C2G00000ztCK7UAM
"Wear a mask, bring gloves and a refillable water bottle," Maynard said. "Tools will be provided."
As for other COVID concerns, there's plenty of room for social distancing, too.
"The site is three acres (with) plenty of room to move around as the tree and shrubs will be planted 10 to 15 feet apart," Maynard said.
For more details and directions:
https://bit.ly/3pu43G8