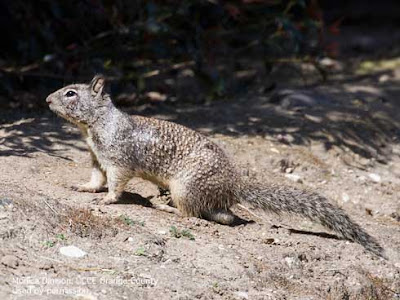 The California ground squirrel (
Otospermophilus beecheyi
)
can be
a real nuisance for the home gardener.
(Photo by Monica Dimson, UCCE Orange County,
courtesy UC IPM)
They're clever, determined and usually hungry. That makes controlling rodents in our homes and gardens particularly difficult.
In a free online workshop, learn how to outsmart Norway rats, roof rats, mice, rabbits, voles and other common rodents – maybe even squirrels! Experts in integrated pest management will show you how.
Set for 1 p.m. Thursday, June 17, "IPM for Rodents" starts with identification and how to tell which critter is actually affecting your space. Then the workshop tackles how to dissuade rodents from eating your garden and invading your home.
The workshop is free, but advance registration is required at: https://ucanr.edu/sites/ucipm-community-webinars/.
Dr. Niamh Quinn, Human-Wildlife Interactions Advisor for Orange, Los Angeles, and San Diego counties, will present this workshop, designed for both urban and suburban dwellers.
Designed to be as wildlife friendly as possible, IPM methods control pests with mostly natural methods and strategies. This one-hour workshop is part of a new public series presented by the UC Statewide Integrated Pest Management Urban & Community Program.
Each month, IPM and other experts will share helpful pest management information for California residents, say the organizers. Since the workshops are online, they're available throughout the state.
Topics also will include landscape pest management, household pests, understanding pesticides, management for weeds and invasive pests. Each webinar will be held at 1 p.m. on the third Thursday of the month.
Upcoming workshops: "Plant Diseases" (July 15), "Weed Identification" (Aug. 19) and "Identifying Insect Pests in the Home and Garden" (Sept. 16).
For more details and to register: https://ucanr.edu/sites/ucipm-community-webinars/ .