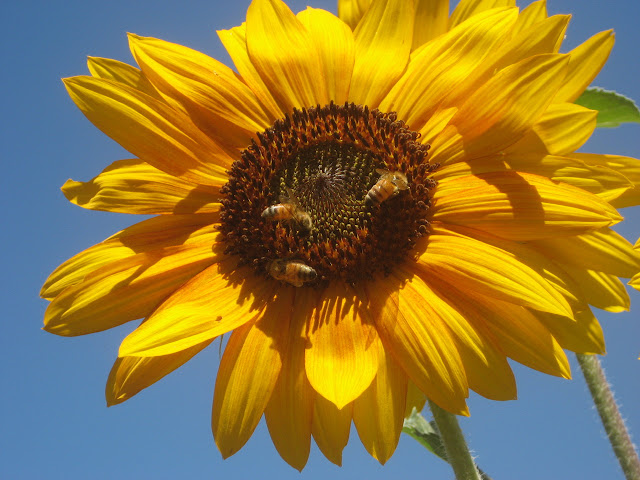 Sunflowers are easy to grow in summer -- and the bees love them. (Photo: Kathy Morrison)
Make the most of a weekend in the 80s. More heat is on the way.
According to the National Weather Service, our cool break is over. Sacramento could see 103 degrees on Thursday. That will be followed by plenty of days in the 90s.
What did you expect? Summer is right around the corner.
* Deep-water shrubs and trees before the heat arrives. Check soil moisture. Make sure water reaches 6 inches deep.
* Weed, weed, weed! Pull out invasive plants before they flower and set seed. Be on the lookout for bindweed and nutsedge.
* Mulch, mulch, mulch! That will help retain moisture as well as smother weeds. Mulch keeps your plants' roots comfortable on hot days, as well as cut down on work. For best results, spread 3 to 4 inches of wood chips, dried leaves, straw or other organic mulch (not rocks). Leave a 6-inch circle around trunks or main stems to avoid crown rot.
* From seed, plant beans, corn, melons, pumpkins, radishes, squash and sunflowers.
* Plant basil to go with your tomatoes.
* Add instant color to the garden with petunias, marigolds and zinnias.
* Transplant perennial flowers including astilbe, columbine, coneflowers, coreopsis, dahlias, rudbeckia, salvia and verbena.
* Feed summer flowers with a slow-release fertilizer. Water before and after fertilizing.
* Dig and divide crowded daffodils and other bulbs after the tops have died down.
* Thin grapes on the vine for bigger, better clusters later this summer.