Gourd artwork will be celebrated and taught next week by the Amador Gourd Artists at Amador Flower Farm. (Photo courtesy Amador Gourd Artists)
A thoroughly fun event returns this month at one of June's prettiest locations.
The Amador Gourd Artists present the 2021 Gourd and Fine Art Festival on June 26 and 27 at Amador Flower Farm in the heart of Amador wine country.
In addition to a full weekend, the festival also will host gourd decorating classes over four days, June 25 through 28. Advance registration is needed for all classes.
Open from 10 a.m. to 4 p.m., the festival itself will include displays, prizes, demonstrations, gourd vendors and gourmet food for sale. In addition, visitors can roam the gorgeous flower farm, packed with thousands of blooming daylilies as well as large display gardens. Admission and parking are free.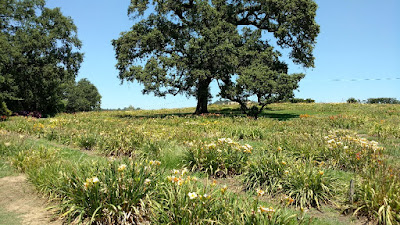 Amador Flower Farm is known for its daylilies. Picnic sites
are available. (Photo: Debbie Arrington)
The public is invited to bring their own gourd creations, too. "This year will feature a gourd display area, open to the public, say the organizers. "Anyone who wants to display their gourd artwork is welcome to, and the display will be changed daily.
"There will be a simple sign-up procedure to show your artwork," add the organizers. "Please be prepared to bring your artwork before 10 a.m. and pick it back up at 4 p.m. each day. No official judging will take place, but there will be a people's choice award given each day."
Hawaii gourd and fiber artist Jelena Clay, who has taught creative gourd art for more than 20 years, will be the featured instructor. Classes with spots still available include: Batik with Pine Needle Trim ($85, Friday): Gourd Fish on a Stand ($65, Saturday); Lei Trim Embellishments ($40, Sunday); and Lady Bug Gourds ($75, Sunday). Go to
https://amadorgourdartists.com/
to sign up or for more details.
Open daily free to visitors, Amador Flower Farm is now in full bloom with more than 1,200 varieties of daylilies. Shaded by centuries-old oaks, picnic tables ($5) may be reserved in advance. Call 209-245-6660.
Surrounded by wineries and located about an hour from Sacramento, Amador Flower Farm is located at 22001 Shenandoah School Road, Plymouth. For directions and more details:
www.amadorflowerfarm.com
.