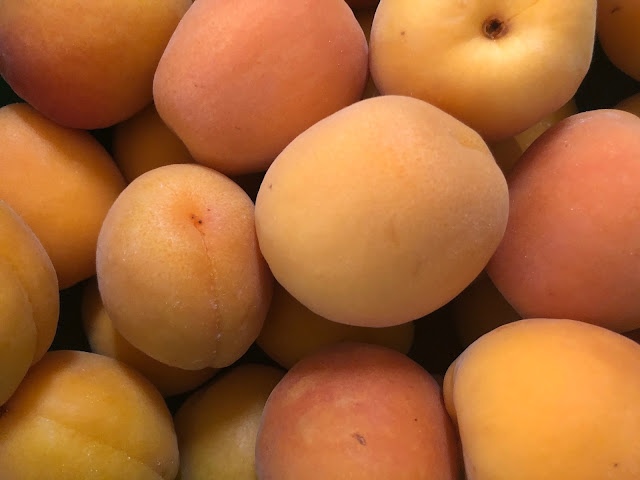 Avalanche of apricots, plethora of peaches: The heat has accelerated harvest times for stone fruit.
Learn how to save your harvest in free Zoom classes this Saturday or July 21. (Photo: Kathy Morrison)

This intense heat is making summer fruit literally fall from the trees.
Apricots, plums, nectarines, peaches and other stone fruit are ripening two or more weeks ahead of schedule. (Cherries, always the first to ripen, are pretty much done.) In addition, heat-stressed trees of all sorts are shedding immature fruit.
Knowing that the harvest may arrive early, what are you going to do with all that fruit?
Learn how to preserve stone fruit of all kinds during a free Zoom workshop, presented by the UC Master Food Preservers of San Joaquin County.
Set for 10 a.m. Saturday, June 19, this two-hour workshop will cover the basics of stone fruit preservation, including freezing, canning and drying. Master food preservers will discuss what makes a fruit a "stone fruit," with tips specific to keeping peaches, apricots, nectarines, plums, cherries and their relatives looking and tasting their best for future use.
The class is free, but advance registration is required; participants can sign up right until the workshop begins. Once registered, participants will receive an email with the necessary Zoom link.
To sign up, go to
https://www.facebook.com/events/909567522926502/
or the Master Food Preservers website,
https://bit.ly/2TJaRnJ
.
For more on food preservation and links to more virtual workshops:
https://ucanr.edu/sites/NSJMFP/
.
Can't make Saturday's class? The UC Master Food Preservers of Sacramento County will present their own virtual stone fruit workshop at 6:30 p.m. July 21. Registration for that free Zoom class is coming soon. Details:
http://sacmfp.ucanr.edu/
.