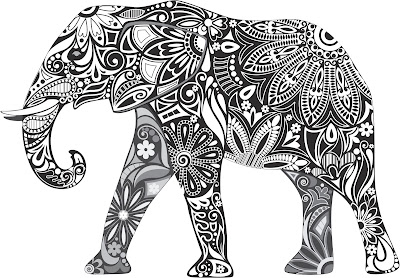 (Artwork courtesy Sacramento Center for Textile Arts)
Find the makings of some creative garden art – and all sorts of other craft and textile materials – during one of the Shepard Garden and Arts Center's most fun events: the annual Art Elephant Sale.
Hosted by the Sacramento Center for the Textile Arts, the Art Elephant Sale will be held from 10 a.m. to 3 p.m. Saturday, June 26, at Shepard Center in McKinley Park. Admission and parking are free.
The sale, which was canceled in 2020 due to the pandemic, will be held on the center's open-air patio, allowing for lots of room for social distancing.
"Art Elephant provides a fun bazaar where buyers and sellers meet, featuring materials and tools for all kinds of artistic, crafty, and creative endeavors," say the organizers.
Creative people, like everyone, tend to accumulate a lot of extra stuff – especially art and crafts supplies, note the organizers. They may try a craft or artistic pursuit, decide that's not for them, and change direction – but they still have all the stuff to go with that cast-off hobby.
The idea behind Art Elephant: Let creative folks free up their work space (and closets) and share that bounty with others.
It's sort of a treasure hunt for crafters and artists. All sorts of unusual and hard-to-find items will be offered for sale, mostly in the $1 to $5 range. (Bring cash, please.)
Among this year's featured items: Leather samples (great for making jewelry); cosplay fabric; upholstery and drapery samples (8-by-8-inch up to 24-by-24-inch); sample books; trims grab bags; new cross-stitch kits; cross-stitch patterns; cross-stitch books; needlework items; Japanese obi and kimono remnants; paper-crafting supplies; beads for jewelry making and more; clay modeling tools; and African print "fat quarters" for quilts and other projects.
Tables will be staffed by members of the textile center's study groups, such as jewelry, ceramics, dyeing, needlework and quilting.
"Come find the supplies you need and visit with like-minded creatives in a safe, outdoors, socially distant way," say the organizers.
Shepard Center is located at 3330 McKinley Blvd., Sacramento.
Details:
https://sactextilearts.org/