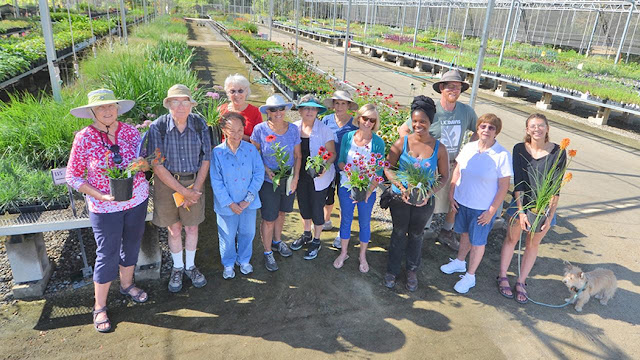 Friends volunteers gather at the Arboretum Teaching Nursery. (Photo courtesy UC Davis Arboretum)
Friends of the UC Davis Arboretum celebrate 50th anniversary
They've annually contributed thousands of volunteer hours, helped raise more than $1 million for their favorite cause and host the most popular garden events in Davis.
It's good to have Friends.
This summer, the Friends of the UC Davis Arboretum and Public Garden are celebrating the group's 50th anniversary. Like many 2021 commemorations, this golden anniversary will be mostly virtual with several ways that members, supporters and the public can participate online.
Without the help of its volunteer and fundraising organization, there would be no UC Davis Arboretum and Public Garden. Fifty years ago, the Friends formed to save the Arboretum when its university funding had been eliminated.
That was 1971. The budget cut was a crisis for the Arboretum, which was founded in 1936. Supporters and Arboretum volunteers, which had been a loose-knit group, formalized their role and created the Friends. Its bylaws were officially approved in May 1971, clearing the way for the Friends' first fundraiser – an iris rhizome sale with varieties from the Arboretum's collection.
Those fundraising efforts grew into the popular Arboretum Teaching Nursery plant sales. Before the pandemic, the sales – which have moved online – drew more than 8,500 customers annually.
The Friends also led the public effort to restore the Arboretum's university funding and support. The 100-acre Arboretum is now a jewel, not only of the campus but the community. It's open free to public access daily.
"We are thrilled to be honoring the 50th anniversary of this incredible group," said Kathleen Socolofsky, assistant vice chancellor and director of the Arboretum and Public Garden, on the arboretum's website. "Their role in the longevity of this campus and community resource cannot be overstated, and their involvement developing, maintaining, and continuing to support this organization remains critical, especially during times like these."
The Friends have their own 50th anniversary website:
https://arboretum.ucdavis.edu/friends-50th
.
How to help celebrate? Here are some suggestions from the Friends:
Add your story to the
Friends' Memories Project
, online.
Share social media posts with the hashtag #Friends50th.
Donate to the
Friends' Annual Appeal
.
Become a Friends member
.
And visit the Arboretum. Appreciating its beauty and all the hard work its represents is a wonderful way to celebrate this milestone, too.
Details and directions:
https://arboretum.ucdavis.edu
.