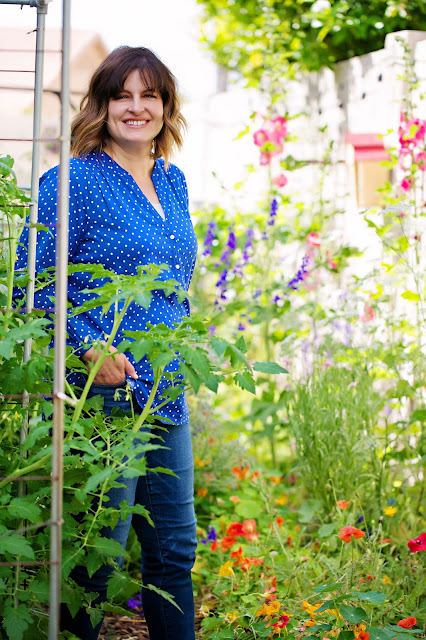 Angela Judd blogs about gardening in the Phoenix area
and now has a book out. (Photos courtesy Angela Judd
and Simon & Schuster)
Angela Judd knows how to garden in high heat. As a mother of five kids, she also knows how to inspire young people to get their hands dirty.
Used to triple-digit temperatures, the longtime garden blogger and author lives in the greater Phoenix area where 100-plus days dominate summer (and parts of spring and fall, too).
"Watering is a HUGE issue," Judd said in a phone interview. "Raised bed, in ground, containers; there are different ways to be most effective. The trick here is timing – when to plant."
When Sacramento gardens are just hitting mid-summer stride, Phoenix is pretty much done, although Judd still finds plenty to grow – and write about.
"I'm partial to plants that can handle the heat," she added, "like Malabar spinach. It can take the heat."
Attracting a global audience as well as many dedicated desert fans, Judd's blog – Growing in the Garden (
https://growinginthegarden.com/
) – reaches more than 180,000 readers a month.
"I'm amazed at how many parts of the world are similar (to Phoenix's climate) and struggle with the high heat of gardening," she said. "There are more places than you'd think – and they want things to grow in heat!"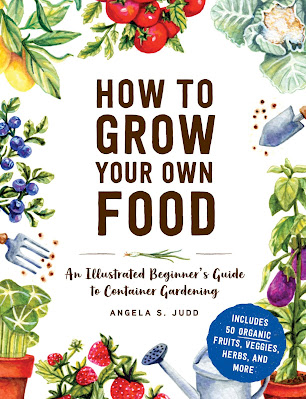 Newbie gardeners under age 40 are particularly perplexed about how to grow something they can eat. With that younger audience in mind, Judd compiled 50 of her favorite easy-to-grow food plants in a new book, "How to Grow Your Own Food: An Illustrated Beginner's Guide to Container Gardening" (Adams Media, Simon & Schuster, 144 page, $17.99).
In her beautifully illustrated book, Judd takes a straightforward, simple approach to food gardening, using the hook that appeals most to gardeners under age 40.
"Container gardening appeals to millennials; that was the idea behind the book," she explained. "They're so comfortable growing houseplants; that's been their introduction to gardening. They can take those same skills and grow food!"
During COVID, the desire to grow food and the general interest in gardening both increased, Judd noted. But the trick was how to convince millennials (and younger gardeners) that they could take that next step.
If they could grow pothos, they could grow tomatoes, Judd said.
"It's exciting," she added. "I love to help people learning to garden. There are definitely rewards at the end and along the way."
Her advice: Start small. Plant something in a bucket with a hole in it (or similar container). That initial experiment can teach a newbie gardener some basics about food gardening, such as the importance of sun, water and soil.
"It's a simple and easy way to begin," Judd said. "You have the ability to move it, to find the best spot. If you move, you can take it with you. You can add more pots and keep adding. Once you get the bug, you keep gardening. It's a good habit and good skills to learn."
Judd's own children, ages 10 to 25, taught her about which food plants are easiest for beginners.
"I made all my kids learn how to play the piano," she said. "Gardening is the same thing – a good skill to have. Everyone should know what to do with a packet of seeds."
Judd's keep-it-simple method makes success likely.
"You want (beginners) to be successful," she said. "You want them to experience that fresh-from-the-garden flavor – and excitement."
What to plant in that first bucket – or three? Judd recommends starting with beans or peas. "They're big seeds, easy to plant and good to grow from seed."
Judd's next two picks for beginners: Tomatoes and root vegetables. "Tomatoes are easy (to grow) from transplants. Root vegetables teach you that there's something going on under there. I saw with my own kids, when they pulled a carrot for the first time, the look on their faces? Priceless!
"And all three things (beans or peas, tomatoes and root vegetables) taste fresh-picked nothing like from the store. That's what makes it worth it."