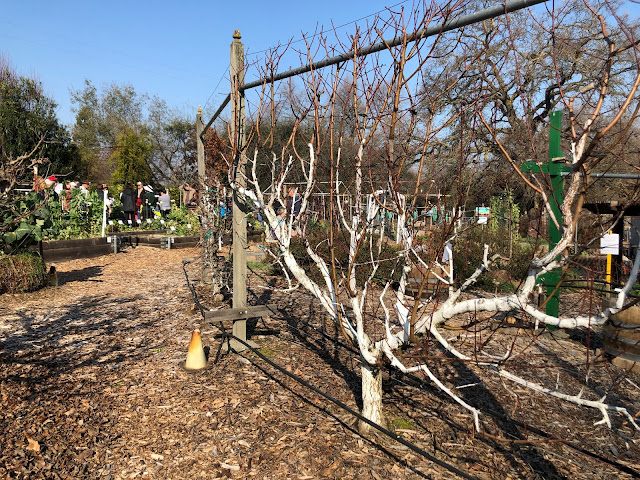 Espaliered fruit trees lead to the vegetable garden at the Fair Oaks Horticulture
Center, a scene from the most recent Open Garden Day, Feb. 8, 2020.  The next one will be Sept. 11. (Photos: Kathy Morrison)
Lots of little tidbits are floating around that need to be collected somewhere this week, so why not here?
1) The weather forecast thankfully is milder this weekend than last. This is an excellent time to visit the El Dorado County master gardeners' Sherwood Demonstration Garden at the Folsom Lake College El Dorado Center, Placerville. Hours are 9 a.m. to noon Fridays and Saturdays when the morning forecast is 95 degrees or lower.  This weekend certainly qualifies.
The site features 16 individual themed gardens, including a Mediterranean Garden, Japanese Garden and a Children's Garden. A map of the garden and details on parking are here.
2) Speaking of gardens, the city of Woodland is constructing a rain garden in a corner of Crawford Park. Here's the description from the city website:
"The rain garden will divert stormwater from El Dorado Drive into a retention swale and includes a drought-tolerant demonstration garden and shaded seating area. Landscaping will include native, drought-tolerant, and pollinator-friendly plants suitable for sun and shade, as well as wet and dry conditions.  ...
"The rain garden will integrate 'green infrastructure' into the park, demonstrate how small-scale green infrastructure projects can work even in residential yards, and provide a venue for ongoing education about green infrastructure and sustainable gardening."
Here's the city's page on the project, with a map and more details. The Yolo County master gardeners are involved in this project.
3) Harvest Day will be virtual again this year, as I wrote a few weeks ago , but most of the videos created for it will be posted soon at the Sacramento County master gardeners' YouTube channel . Again, registrations are already being accepted for the live-online Q&A sessions and webinars planned for Aug. 7. This page has the links for registration and the full schedule.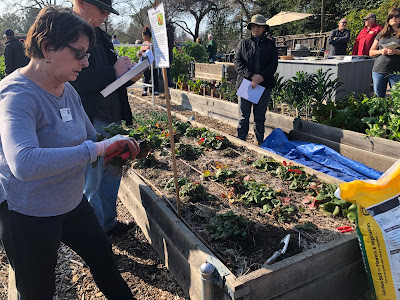 Master gardener Linda Sanford gives a demonstration on planting
strawberries during the Feb. 8, 2020, Open Garden Day.
4) The Sacramento master gardeners' first Open Garden Day since early 2020 is on the calendar for Sept. 11. It's planned as a low-key event, with limited staffing, but the fact that it's scheduled at all is very exciting.  Open Garden Days are held at the Fair Oaks Horticulture Center, next to Fair Oaks Park, just south of the Madison/Fair Oaks Boulevard intersection.
There will be more information soon, but I do know attendees will be among the first members of the public to see the new Chuck Ingels memorial gate being installed this summer near the FOHC entrance. Chuck, a longtime UCCE farm and garden adviser who died in August 2018, was the driving force behind the Hort Center, and he is dearly missed. Here's the post Debbie wrote about Chuck after his memorial service.
-- Kathy Morrison