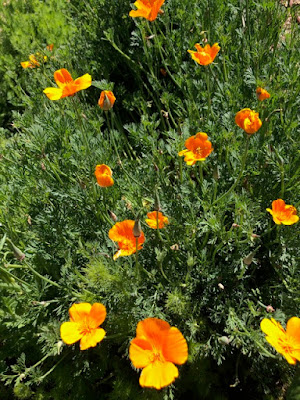 The California poppy is likely the best known native
plant but many others are important to the state.
(Photo: Kathy Morrison)
A unique and truly Californian garden project is taking root right here in Sacramento, and it needs volunteers.
Learn about Hortus Californica during a free event at 5 p.m. Wednesday, July 21, at Urban Roots Brewery, 1322 V St., Sacramento. Although there is no admission charge, the event offers free advance tickets via allevents and eventbrite. Get the link here:
https://bit.ly/2UhhaiI
.
Also known as the California Garden Project, Hortus Californica is hosting this informal information event, open to all people interested in gardening and preserving the plants that shaped California – not just natives, but plants brought here, too.
"Join Hortus Californica for a networking event and learn about this amazing garden project!" say the organizers' invitation. "Hortus Californica is currently looking for volunteers to help this project become a reality! Become part of the team and create a future garden for generations to come!"
Hortus Californica aims to "present and preserve the rich history of California's diverse people, plants and cultures … and the complex interdependence they have within her fragile ecosystems."
The goal is to create an actual garden that can be a destination for learning as well as inspiration and preservation.
Hortus Californica also will be part of Tomato Alley Collective's Third Saturday Pop-Up ("featuring an Instagrammable Garden") from 10 a.m. to 2 p.m. Saturday, July 17. This free event features arts, crafts, food and gardening. Tomato Alley Collective is located at 2014 28th St., Suite F, Sacramento.
For more on the project:
www.hortusca.org
.