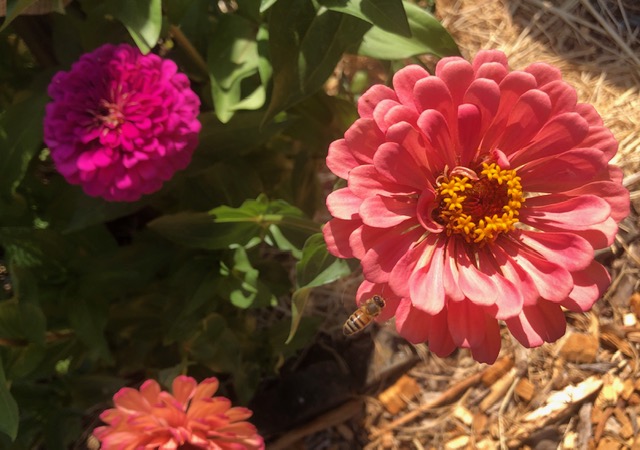 Zinnias add color to the summer garden, and attract pollinators, too. (Photo:
Kathy Morrison)
Our strange summer weather patterns continue. With high humidity, there's a possibility of thunderstorms Sunday into Monday, but unfortunately no rain.
These dry lightning storms can be extremely dangerous, especially in bone-dry Northern California. Lightning can spark wildfires and also poses a danger to people and pets.
Keep an ear out for thunder, says the National Weather Service. If you hear the sky clapping, skedaddle indoors.
After Monday, our weather outlook will be very normal for mid-July in Sacramento, with highs in the low to mid 90s and overnight lows dipping to about 60. Those evening cooldowns will keep mornings comfortable – ideal for garden chores. Plants like this weather, too.
* Keep your vegetable garden watered, mulched and weeded. Water before 8 a.m. to reduce the chance of fungal infection and to conserve moisture.
* Water, then fertilize vegetables and blooming annuals, perennials and shrubs to give them a boost. Feeding flowering plants every other week will extend their bloom.
* Don't let tomatoes wilt or dry out completely. Give tomatoes a deep watering two to three times a week.
* Harvest vegetables promptly to encourage plants to produce more.
* Pinch back chrysanthemums for bushy plants and more flowers in September.
* Remove spent flowers from roses, daylilies and other bloomers as they finish flowering.
* Pinch off blooms from basil so the plant will grow more leaves.
* Cut back lavender after flowering to promote a second bloom.
* It's not too late to add a splash of color. Plant petunias, snapdragons, zinnias and marigolds.
* From seed, plant corn, pumpkins, radishes, winter squash and sunflowers.