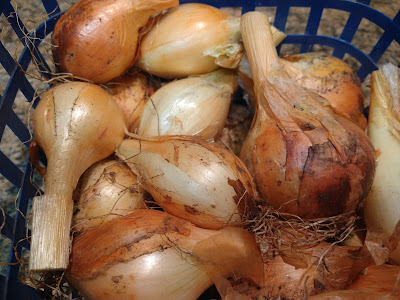 Onions of all sizes can be used in this recipe.
What do you do with a whole lot of sweet onions? Like many other summer favorites, turn them into a pie.
OK, this is really more of a thick quiche than a traditional two-crust fruit pie. But the fluffy custard filling nicely contrasts with the flavorful onions.
Caramelizing – slow cooking in butter – brings out the sweetness and flavor in the onions. It takes some time (and makes the whole house smell like onions) but it's worth it. The slow cooking reduces the moisture in the onions, so what starts out as a great mound of sliced onions will (pretty much) fit in the pie crust along with the egg, cream, milk and cheese. Any extra filling can be baked in a buttered casserole dish (without crust); it makes its own tasty side dish.
This dish works particularly well with home-grown onions that may be small or oddly shaped. (I had lots of those when I pulled my yellow onions this past week.) Because the onions will be uniformly sliced, different sizes may be used in the same recipe.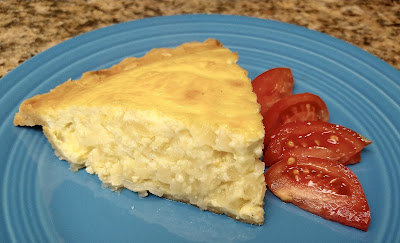 A slice of onion pie goes well with a side of sliced tomatoes.


Caramelized onion pie
Serves 6
Ingredients:
1 (9-inch) deep-dish pie crust
5 cups onions, thinly sliced
4 tablespoons (½ stick) butter
Salt and pepper
5 eggs
1 cup cream
½ cup milk
1 cup white cheddar cheese, grated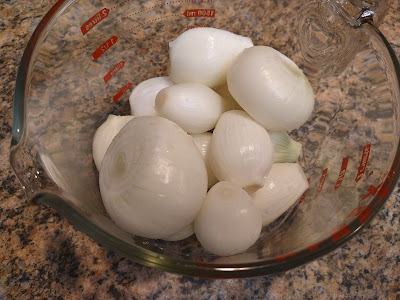 Onions peeled and ready to slice.



Instructions
:
Preheat oven to 425 degrees F. Prick pie crust with a fork. Line inside of crust with foil and weight with pie weights or dried beans. Bake crust at 425 for 12 minutes. Remove from oven. Remove foil and pie weights or beans. Set aside.
Turn oven down to 325 degrees F.
Meanwhile, prepare onions. Melt butter in a large skillet. Sauté onions over medium heat, occasionally stirring, until onions are very soft and golden brown, about 30 to 45 minutes. Add a little water, olive oil or more butter if onions get too dry. As the onions cook, sprinkle with salt and pepper as desired. The sliced onions will reduce to about 2 cups caramelized onions.
In a medium bowl, beat eggs. In a small sauce pan, mix together cream and milk. Warm gently until bubbles just begin to appear on the edges. Add warmed milk/cream to eggs and mix until blended. Fold in caramelized onions and grated cheese.
Place pie crust in pan on a rimmed baking sheet and place on rack in oven. Pour onion-egg filling into crust, right to the top. (Be careful. Depending on size and depth of the pie pan, you may have more filling than crust. Leftover filling can be baked separately in a buttered casserole dish.)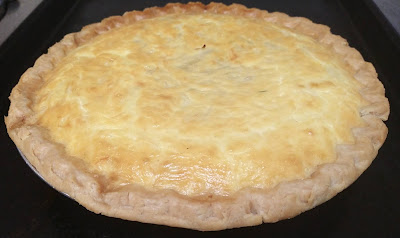 Baked and ready to serve.
Bake pie at 325 degrees F. for 40 minutes or until golden brown. Let cool slightly.
Serve warm or room temperature.