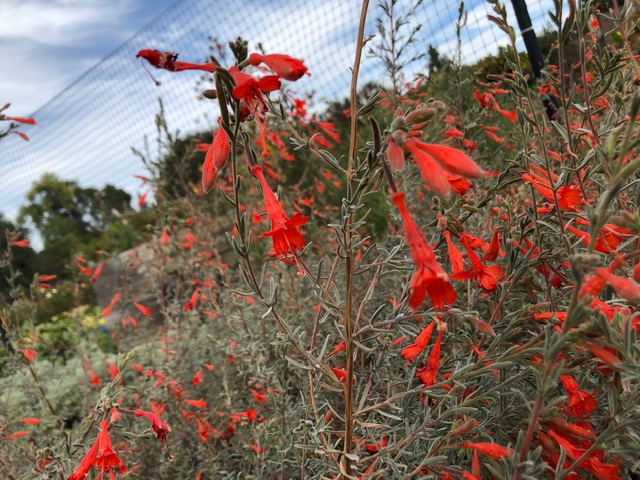 California fuchsia is an easy-to-grow native that attracts hummingbirds. (Photo:
Kathy Morrison)
Your backyard can be a happy home to native wildlife – especially birds, bees, butterflies and other pollinators.
Learn how during a free virtual workshop, hosted by the UC Cooperative Extension Master Gardeners of the Central Sierra.
Set for 9 a.m. Saturday, July 24, "Home Grown Habitat – Enhancing Habitat One Yard at a Time" will explore the link between native plants and native wildlife.
"Native plants are the building blocks of ecosystems: habitats for our native flora and fauna," say the master gardeners. "By providing natural habitat, we help our native animals, including insects, that have co-evolved with native plants to thrive."
Why plant natives? They can help save water, but that's only part of their appeal.
"Native plants are more than drought-tolerant – they are climate-adapted," say the master gardeners. "Information and answers to questions will prove helpful to gardeners who want to include native plants in their surroundings."
The 90-minute workshop is free, but advance registration is required to receive the Zoom link. The class is open to anyone, regardless of where they live.
Details:
http://mgeldorado.ucanr.edu/
or call 530-621-5512.