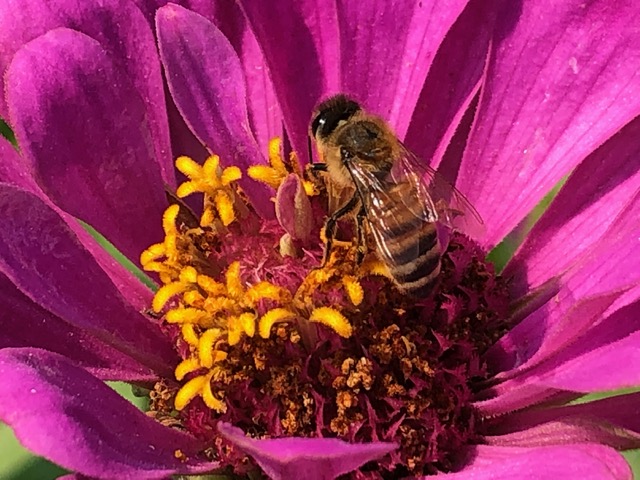 Get this close to hard-working bees at the UC Davis Häagen-Dazs Honey Bee Haven this weekend.
(Photos: Kathy Morrison)
A meme that shows up on gardening social media goes like this:
"I remember when I used to see a bee and go, YIKES a bee! And now, I'm all, Oh wow, a bee, hi! You OK there? Need anything? Can I get you a drink? A cushion? Wanna borrow the car?"
So ... here's your chance! Visit the bees Saturday during the Open House at the UC Davis Häagen-Dazs Honey Bee Haven. It run 10 a.m. to noon, but the Haven is open dawn until dusk.
OK, maybe not lend them the car. But you can say hi, see their habitat and perhaps donate to help the Haven, which no longer receives funding from Häagen-Dazs though it still bears the name.
The Open House runs from 10 a.m. to noon, with a guided tour scheduled at 11 a.m. And the Haven all day will have "bee vacuums" available so visitors can safely catch and observe resident bees. Dr. Rick Wilson also will be on hand to chat about the Haven's unique sundial and its relation to bees.
The website describes the half-acre Haven as "a unique outdoor museum that provides resources for local bee pollinators, inspires and educates visitors to create pollinator habitat gardens, and provides a site for the observation and study of bees and the plants that support them."
Parking and admission to the Honey Bee Haven is free.  It's located next to the Harry H. Laidlaw Jr. Honey Bee Research Facility on Bee Biology Road, west of Highway 113 in Davis. Directions and a map are available here.
For more on the Häagen-Dazs Honey Bee Haven, visit http://beegarden.ucdavis.edu/
And if you like to take pictures of bees as much as I do, do review t he Haven photography policies .
-- Kathy Morrison