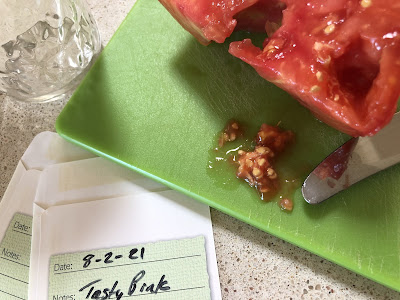 Found a new favorite heirloom tomato? Learn how to save seeds
from it and other summer vegetables in a free class  Saturday.
(Photo: Kathy Morrison)
An easy way to save money while vegetable gardening: Save seeds from what you grow.
But how do you know a seed will be viable? How long does it have to stay on the plant to mature? And how do you know if that seed will grow "true"?
Find out in an informative and free virtual workshop, presented by the UC Cooperative Extension Master Gardeners of Nevada County
Set for 9 am. Saturday, Aug. 7, "Seed Saving" will cover the basics of harvesting seed from summer vegetables to regrow next season.
"There are a number of reasons to save seeds from summer harvests," say the master gardeners. "Saving money and promoting genetic diversity are two reasons, and it's also fun to continue to grow what looks beautiful and tastes good!"
We can enjoy heirloom varieties that have been grown for generations thanks to seed savers. These techniques can be used for many ornamental plants and flowers as well as vegetables.
"This workshop will help participants discover the benefits of seed saving and how to preserve heirloom varieties," say the master gardeners.
"Also explore the differences between hybrid and open-pollinated varieties of seed, and characteristics of plants that are best suited to seed saving. Finally, learn about harvesting seed, processing the seed and proper storage techniques."
This Zoom workshop is open to anyone with an Internet connection and no advance registration is necessary. For links, meeting ID, pass code and details:
http://ncmg.ucanr.org/
.