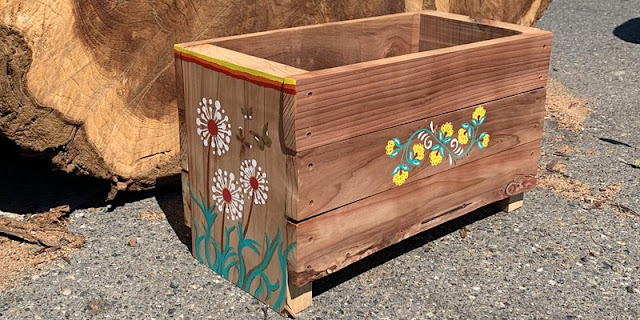 This is an example of the planter boxes that the workshop participants will create. (Photo courtesy Urban Wood Rescue)
Looking for a unique addition to your garden? These redwood planter boxes do more than hold plants; they tell a story – and teach skills, too.
Through its Urban Wood Rescue program, the Sacramento Tree Foundation is offering DIY garden box workshops. Registration is now open for two dates: Saturday, Aug. 21, and Sunday, Aug. 29. Both sessions will be held in person from 9 a.m. to noon at Urban Wood Rescue's headquarters, 6045 Midway St., Sacramento, near Fruitridge and Power Inn roads. Fee is $100 including materials.
The locally sourced wood for these planter boxes is special. An example of what Urban Wood Rescue can do, the lumber came from a local redwood tree.
"The wood to make these boxes was milled from a HUGE redwood tree in the Pocket neighborhood of Sacramento that had to be removed," say the organizers. "These planters are perfect for growing herbs, flowers, and even vegetables. Gardeners, beginning woodworkers, and kids will love this hands-on workshop."
Tools and supplies will be provided and the workshop is open to all ages. The wood is pre-cut but will be assembled and decorated during the session. Then take home the planter and enjoy.
Space is limited. To register for the workshop: https://www.sactree.com/
This program also receives support from CalFire. It's better to re-purpose the wood than let it burn.
Urban Wood Rescue, which sells wood slabs and other wood products as well as offering workshops, gives new life to Sacramento's dead trees.
"Urban Wood Rescue is a program of the Sacramento Tree Foundation on a mission to give our fallen trees a second life by keeping them out of the landfill," says SacTree. "By milling and drying this lumber, we not only make use of a valuable resource but also ensure these trees continue to sequester the carbon they accumulated throughout their lives.
"This gorgeous, sustainable wood is a great way to bring our City of Trees heritage into your home," adds the foundation. "Each purchase supports the Sacramento Tree Foundation's stewardship and sustainability efforts."
Urban Wood Rescue is always on the lookout for more trees to salvage. Particularly sought-after are walnut, elm and redwood, but logs of several other varieties will be accepted.
For more information and details on Urban Wood Rescue: https://www.urbanwoodrescue.com/