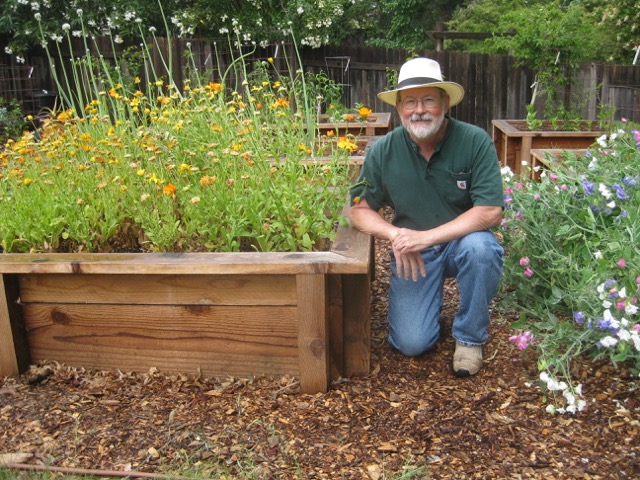 Farmer Fred Hoffman will answer questions online Saturday during Virtual Harvest Day. (File photo)
Longtime Sacramento radio host and now podcaster Farmer Fred Hoffman has been a regular part of Harvest Day, in person or virtual. A lifetime UCCE master gardener, Hoffman will again be one of the event's keynote speakers for Saturday's celebration.
His presentation on edible gardening is actually already available online (find it here:
http://sacmg.ucanr.edu/Harvest_Day/
). Via Zoom, Hoffman will answer questions from 8:30 to 9 a.m. Saturday, Aug. 7. (Use that same link to register and get access.)
In anticipation, we asked Farmer Fred to share a few thoughts about Harvest Day and edible gardening:
Q: Why is Harvest Day important for Sacramento-area gardeners?
Farmer Fred: You know I would say this – all gardening is local.
Gardening is a tactile experience. We want to see, touch, smell and, yes, hear our plants – seeds rattling around in drying pods; pine cones falling too close for comfort. If it can grow at the Fair Oaks Horticulture Center, the site of Harvest Day activities (during virus-free times), it can grow in a long and wide area of Northern and Central California. (OK, there are limits to how far east….)
So, Harvest Day at the Fair Oaks Horticulture Center is a great place to see plants that you may be interested in trying, learning about planting and growing techniques, and talking gardening with all the Master Gardeners. Harvest Day is an open-air gardening encyclopedia with friendly, smiling people. Except for the past two years …
Q: What do you like about the virtual format of this year's Harvest Day? What's the downside? The upside?
Farmer Fred: Covid restrictions have closed the Fair Oaks Horticulture Center to the public (with the exception of the Water Efficient Landscape gardens, which are open every day). So, virtual Harvest Day is the next best thing.
They are, as you might imagine, dragging me kicking and screaming into the 21st century with this digital video extravaganza. I much prefer seeing and interacting with everyone up close, in person, where we can learn so much more.
Hopefully, the first August Saturday of 2022 will see us all together at the Fair Oaks Horticulture Center. A bit of possible good news: The Sept. 11 in-person workshop at the Fair Oaks Horticulture Center is still on … barring a Covid Delta variant reversal of fortune. Check the Sacramento County Master Gardener Facebook page and the Master Gardener website (
http://sacmg.ucanr.edu
) as that date approaches for any possible cancellations. I'm hoping the event stays on the calendar because I would like to help people set up their smartphones to listen to podcasts. Especially one that I am rather fond of.
Q: Your Harvest Day topic is growing food year-round. What are some of your favorite cool-season vegetables to grow here?

Farmer Fred: For as long as I can remember, I have always planted onions and garlic each fall, for an early summer harvest. Stockton Red onions are my favorite, although hard to find. Red Burger is a good substitute, though. This past year, I grew Red Zeppelin onions … just because I love a good pun. They were OK, but not as large as the Stockton Reds.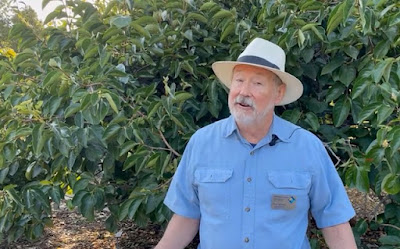 Fred Hoffman's keynote presentation already is online at the
Sacramento County master gardeners' Harvest Day page and on
YouTube. (Screenshot)
When it comes to garlic, I prefer the long-storage varieties, such as California Early and California Late. But there are lots of other beautiful, pungent garlic varieties I like to sneak in, such as Inchelium Red and Music.
My go-to cool-season green is "Bright Lights" Swiss chard, tasty raw or cooked. Contrary to what you may have been told, Swiss chard can be grown here in the summertime without it bolting. Just give it plenty of shade, perhaps on the north side of a building. And I will grow broccoli for the flowers, which attract a wide variety of pollinators and beneficial insects.
Q: As a longtime Sacramento area gardener, have you seen shifts in what we can (and can't) grow here? How are shifting weather patterns and climate change impacting what food we grow in the Sacramento region?
Farmer Fred: I've spent a generation trying to convince gardeners that April 28 (my birthday) is Official Tomato Planting Day in our area. By then, the whipsaw spring weather (including damaging hailstorms) has settled down, nighttime temperatures are above 50 degrees, and soil temperatures are approaching a range (65-75 degrees) more conducive to warm weather vegetable growth.
Well, "ha ha ha," says Mr. Climate Change. Thanks to unusually warm mid-winter days, nurseries now have an early selection of tomato plants in stock in February.
Gardeners are like insects; they become more active as temperatures rise. However, although the days may have a few hours of spring-like warmth in January and February, it is still cold at night (in the 30s and 40s), and the soil temperatures are below 50 degrees, not ideal for a tropical plant such as a tomato.
However, I am budging a bit on my tomato planting schedule. If you want to plant tomatoes here on April Fool's Day, be my guest. But don't be surprised by a hailstorm or two as well as blustery north winds decimating your early attempt at a summer garden.
Those warm winter days are also playing havoc with stone fruit tree development. Most gardeners are aware of "chill hours," a certain number of hours each day that are between 32 and 45 degrees that force deciduous stone fruit trees – peaches, plums, apricots, apples and others – into a necessary dormancy that allows them to bud out as the weather warms. Twenty years ago, chill hour accumulation in our area was between 800-1,200 hours, ideal for most varieties of stone fruit trees. Now, the total in our area is more in the range of 700-900, and even less. During the drought year winter of 2014-2015, some recording stations in our area recorded as little as 444 chill hours.
Fruit trees with relatively high chill requirements, such as my favorite plum-apricot cross, the Flavor Supreme pluot, may have a decrease in production, because they didn't get "a good night's sleep."
Complicating matters, though, are the higher daytime temperatures we are seeing now in the winter. Having three or four days in a row of daytime temperatures above 65 degrees in January or early February may cause those fruit trees to bloom prematurely, only to be lost during the return of cold or freezing temperatures in the early morning hours in the following weeks.
No blossoms, no fruit. That was the story of my Flavor Supreme this year; I heard the same sad story from other gardeners as well.
This is a challenge for area gardeners. We may have to rethink planting strategies as the weather warms earlier than usual, or for longer periods than usual, especially runs of triple-digit highs during the summer.
Those "full sun" summer vegetables and fruit may need a bit more late afternoon shade and be planted away from hot, reflective south and west-facing surfaces for best results in the future.