Gardening is full of surprises. This year one of mine came from the vigorous plant that I thought would give me ping-pong ball-size cherry tomatoes. Instead, they're the size of large peas, or maybe small marbles. And the plant is huge, taller than me, so there are tons of them.
Well, they're cute, but too small for a BLT, that's for sure.
So what to do with this wealth of tiny tomatoes? I was inspired by the very word "cherry." Sweet cherries are great in the French dessert called clafoutis. How about a savory clafoutis featuring this micro crop?
As it turns out, a savory clafoutis is a great brunch dish or appetizer that holds beautifully at room temperature. Not weepy, like a quiche can be, or eggy like a frittata. I used plenty of herbs and just a bit of cheese, but feel free to add more on top if you like.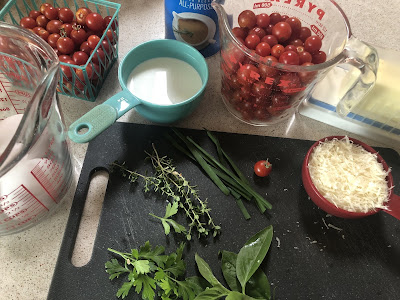 Savory cherry tomato clafoutis
Serves 6
Ingredients:
1/2 cup half-and-half or whole milk
1/2 cup plus 2 tablespoons grated Parmesan cheese, divided
2 tablespoons grated mozzarella cheese (or fontina, Gruyere or cheddar)
3 tablespoons chopped mixed herbs such as parsley, basil, chives and thyme, divided
2-1/2 tablespoons butter, melted, plus more for greasing the pan
3/4 teaspoon kosher salt
Fresh grated black pepper, to taste
4 large eggs, room temperature
1/4 cup all-purpose flour (Wondra if you have it; it blends well)
About 2 cups small cherry tomatoes, stemmed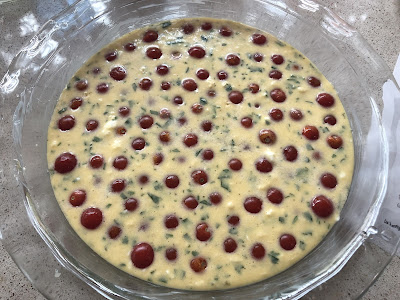 Instructions:
Heat the oven to 400 degrees. Butter a 9-1/2-inch or 10-inch pie plate or baking dish. Whisk together in a large bowl the milk, 1/2 cup plus 1 tablespoon Parmesan, the mozzarella (or substitute), 2 tablespoons of the herbs, the melted butter, salt, pepper and the eggs.
Then whisk in the flour; it's OK if the mixture is a bit lumpy.
Pour the batter into the prepared pan. Gently sprinkle the tomatoes over the batter so they're evenly distributed. Then sprinkle the remaining 1 tablespoon Parmesan over the top. (Add more cheese of your choice here if you really like cheese and tomatoes.)
Bake for 20 minutes, or when the edges are golden brown and the center is set. Remove from the oven to cool and sprinkle the remaining herbs over the top.
Serve warm or at room temperature.