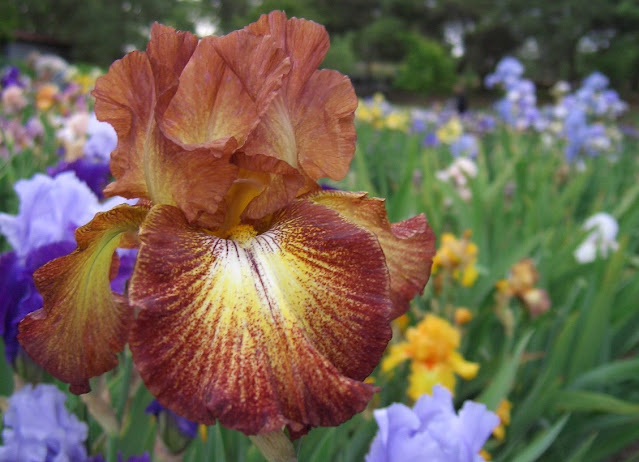 Growing irises (like the bearded variety above) in the foothills is one of the topics of Nevada County master gardeners' workshops this week at the Nevada County fair. (Photo courtesy Sacramento Iris
Society)
Are you ready for some fair fun – and in-person master gardener advice?
Today (Aug. 11), the Nevada County Fair started its five-day run, and will close Sunday, Aug. 15. Held in Grass Valley, this country fair features the popular Family Farm with an answer booth staffed by knowledgeable master gardeners.
Traditionally, summer is fair season, but several of these annual events were canceled or scaled back due to COVID concerns. (That includes Sacramento's own California State Fair.)
With spikes in COVID cases raising renewed concern, Nevada County fair officials ask all patrons to wear face masks indoors and outdoors, regardless of vaccination status.
Each day, members of the UC Cooperative Extension Master Gardeners of Nevada County will make special presentations and offer mini-workshops.
"Please stop by, say hello, bring your home gardening questions and plan to stay for one of our workshops – offered every day of the fair," say the master gardeners.
Here is a brief schedule of upcoming workshops and times:
Thursday, Aug. 12
10:30 a.m.: From a Driveway to a Prairie
11:30 a.m.: Edible Landscaping
1:30 p.m.: Composting - Help Your Garden and The Planet
Friday, Aug. 13
10:30 a.m.: Container Gardening - Hands-On Demonstration
11:30 a.m.: Worm Composting - How to Be a Worm Wrangler
1:30 p.m.: Straw Bale Gardening
Saturday, Aug. 14
10:30 a.m.: Secrets of Growing Native Plants
11:30 a.m.: Growing Beautiful Dahlias in Nevada County
1:30 p.m.: How to End Your Tomato Season
Sunday, Aug. 15
10:30 a.m.: Creating Fairy Gardens
11:30 a.m.: Growing Iris in the Foothills (free iris corms for attendees)
The Nevada County Fairgrounds are located at 11228 McCourtney Road, Grass Valley.
The fair is open 10 a.m. to 11 p.m Wednesday-Saturday, 10 a.m to 9 p.m. Sunday. General admission is $10, seniors (age 65 and up) $7, children (ages 6 to 12) $5. Children age 5 and under are admitted free. On "Three Dollar Thursday," all admissions are $3. Parking: $5.
For more details and directions:
https://nevadacountyfair.com/
For more on Nevada County Master Gardeners programs:
http://ncmg.ucanr.org/